Hey there Fashionista's! Do you recall when I first bought this blanket scarf? If you follow me on Instagram (@tarynjmeyer) you might remember when I first mentioned it in mid September. I got it to finish a look with my olive green day dress. Here, I'll show you: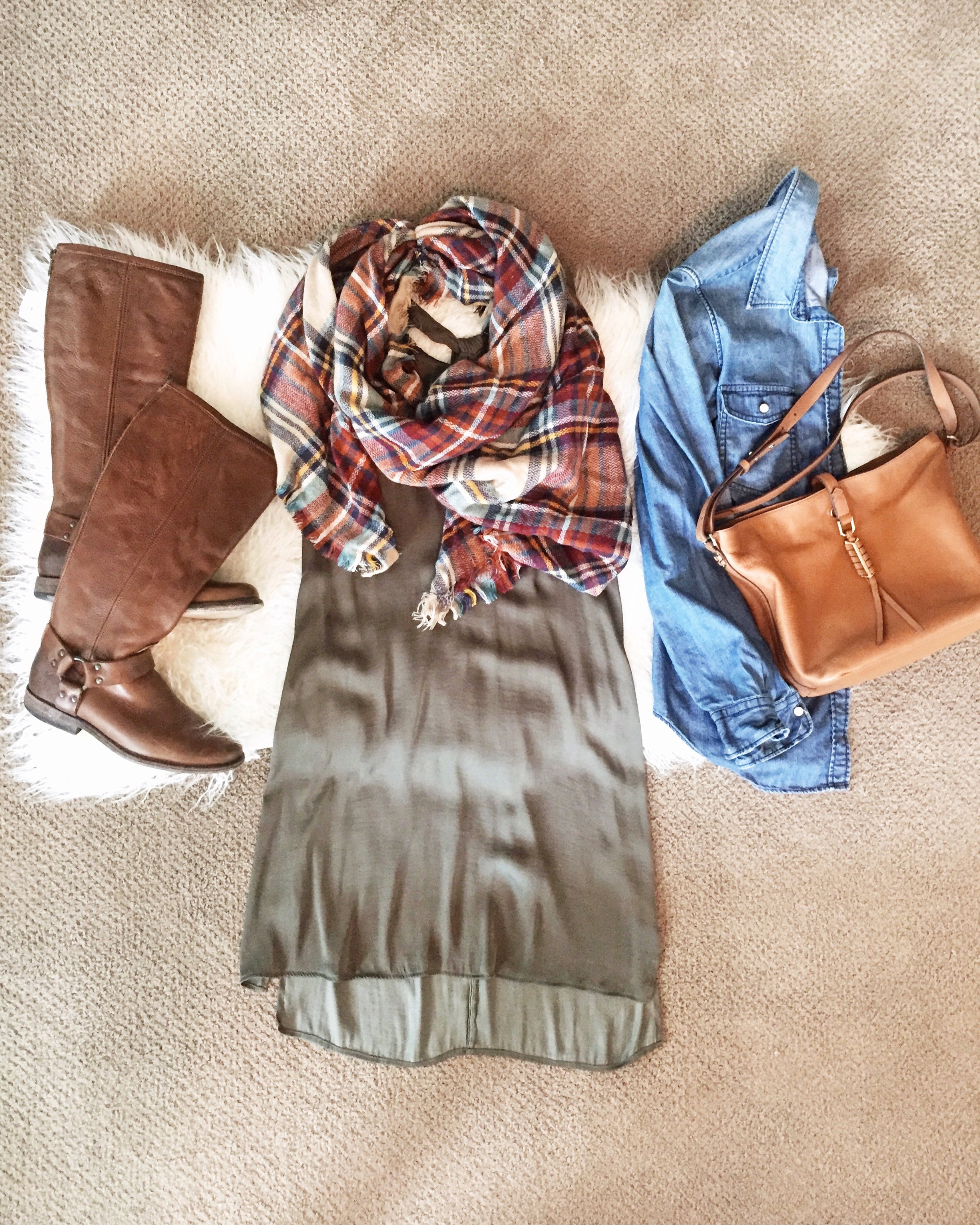 What do you think?! Since that pic was taken, I found other looks I can finish, with this one accessory! It's got neutral tones, Fall tones and pops of unexpected colors. PERFECTION!
Have you done this? Take a printed scarf and wear it with a whole bunch of different colors and patterns! Or are you that gal who buys it with a shirt and only wears it with that shirt?!
I wanted to share a few of the ways I finish a look with it….and Fall is just getting started!
Blanket Scarf + Orange Sweater
This was a completely unexpected pairing!
I love this sweater because the collar is quite wide and can be worn off the shoulder or normally. The orange is a nice rust color. Lucky for me, the colors in the plaid blanket scarf seemed to compliment my glasses and tie the orange and pink together with the burgandy and purple stripes through the pattern!
While not totally sure it was right, I walked out the door; only to be pleasantly surprised with a few compliments while out shopping! Don't be afraid to try putting completely opposite colors and textures together, you just might have a winning combo hiding in your closet.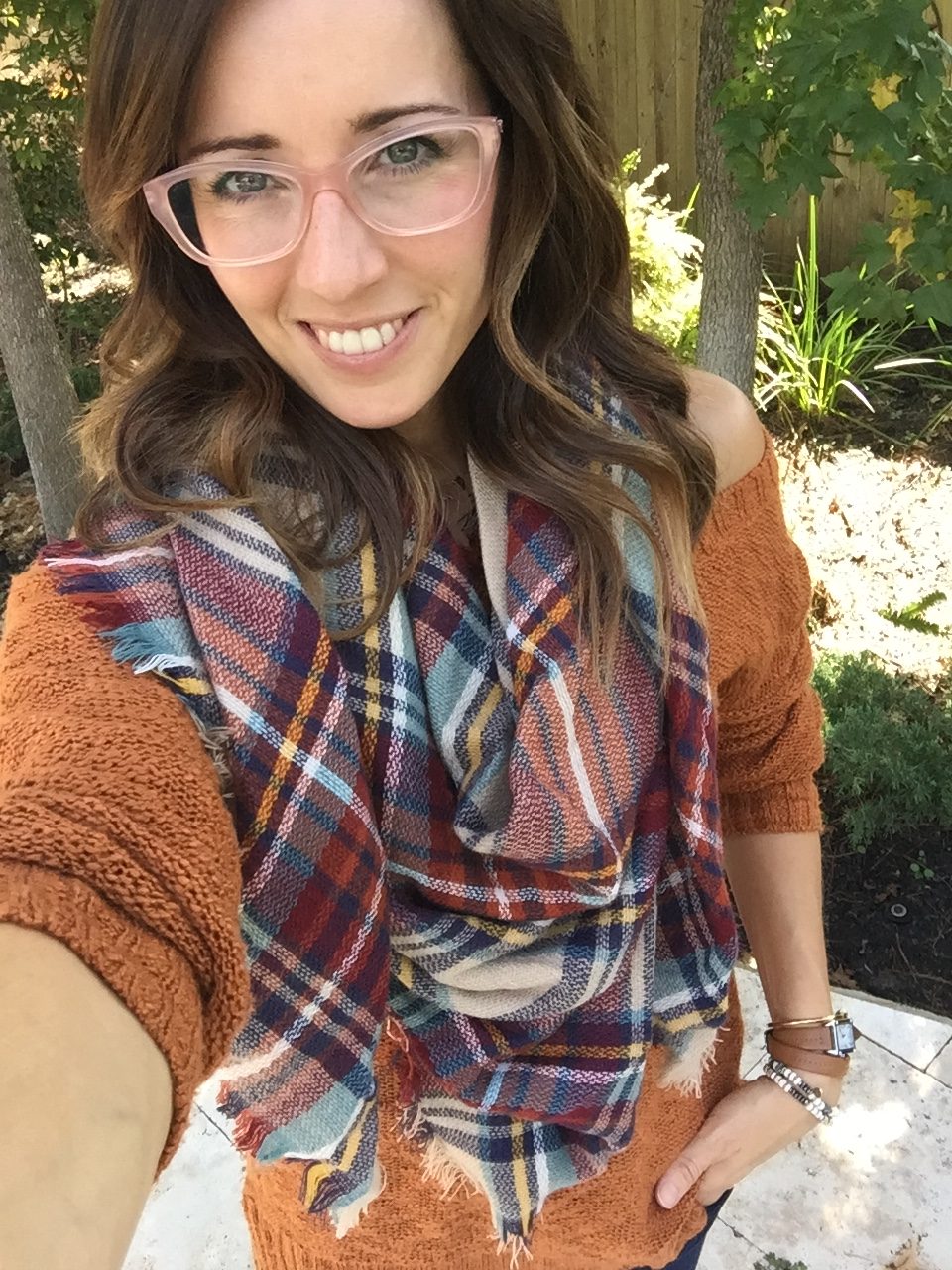 Blanket Scarf + Plum Dress
This was a natural combination in my mind. The plum of the dress is a great match for the burgandy in the scarf, and the other colors add a whole bunch of interest to the outfit. This could be worn with skinny jeans and ankle booties, or these OTK boots to be a great Fall look.
I'm even considering using this look for family photos! It would be the FIRST time I ever wore a dress for them so the jury is still out at the moment on that one. Add a great cross body and even a fun felt hat and you are good to go for a day of shopping at a Holiday Market!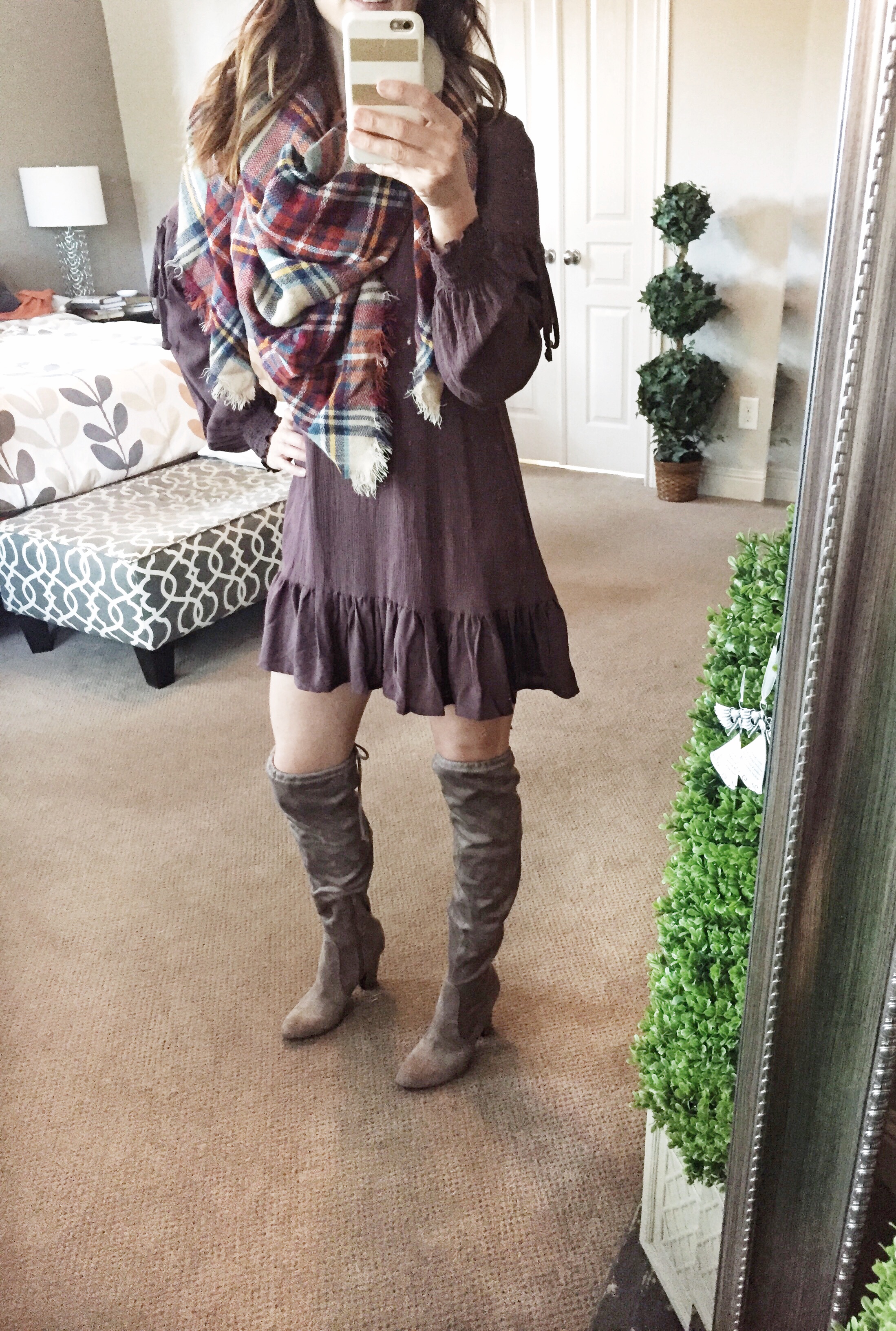 Remember my post about this Express T?! It comes in 11 colors and is a great price online. Even went on sale for UNDER $20! I hope you snagged one up for yourself…the colors, cut and fit are awesome.
Of course, this one is a great match for my blanket scarf as well, in a really casual, everyday style way. Wear this literally anywhere! Add a camo green bomber jacket if you've paired it with jeans, or a moto jacket paired with camo green khaki's. You can see these looks in my previous post called Express T All The Ways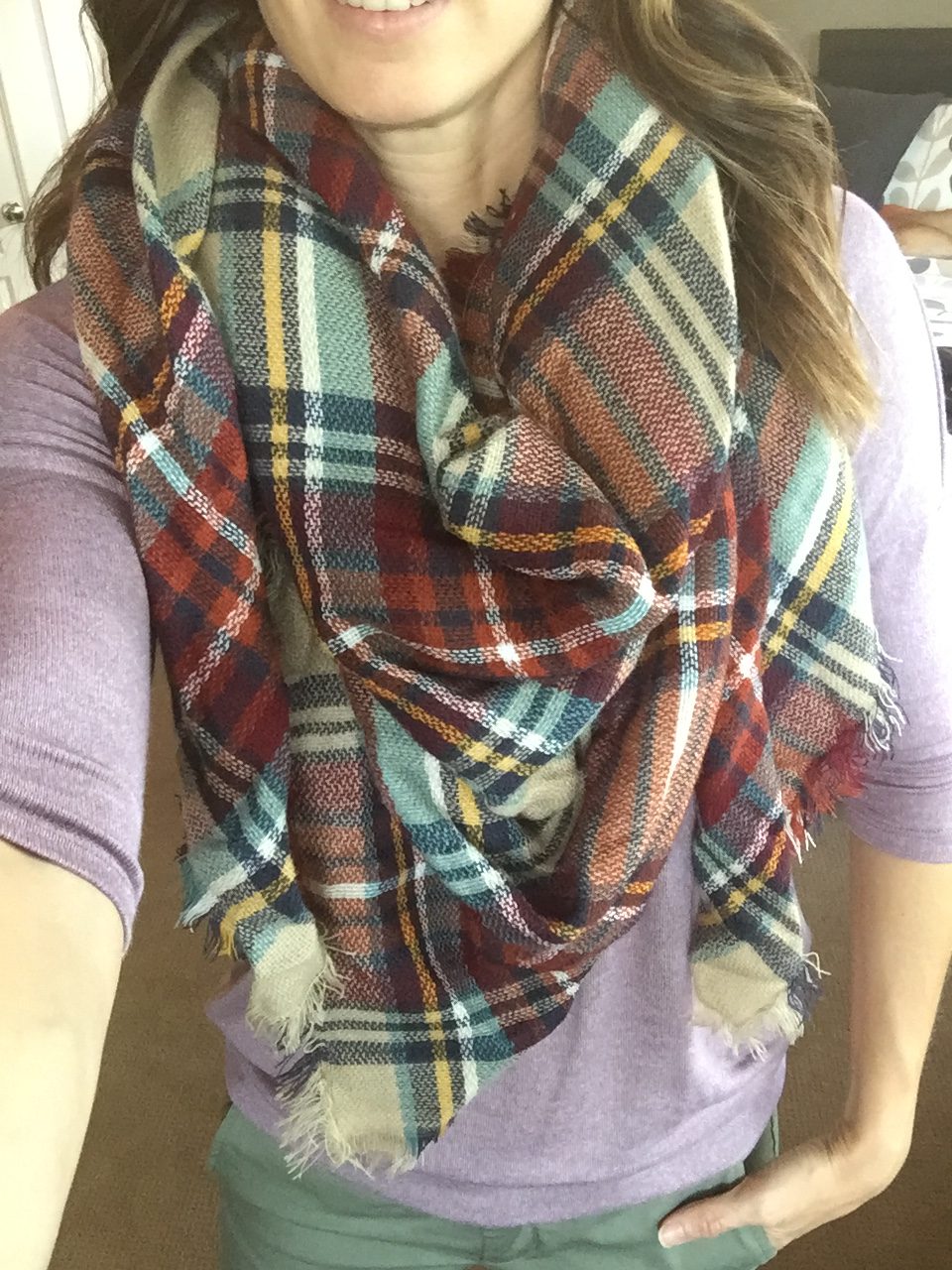 Did You Notice?
Look how many different looks I paired this blanket scarf with. Not all are fancy. Not all are casual. ALL look comfortable and casual everyday style, depending on YOUR preference! It can give a Western vibe to your outfit or a really layered urban look. You can wear almost any color under the sun!
Oh, here's a funny little secret. It has a clear plastic tie in the back that keeps it wrapped nicely, and likely for easy hanging in displays. I just kept that tie on there! I don't feel it, the scarf never ends up getting too tight or falling off. It's genius really! Haha, I'll take any style hack I can.
Happy Blanket Scarf Shopping!!
xoxo Taryn