Confessions of a Savvy Shopper – Part 2 is HERE! When I consider how much Versatility is important to me when I shop, and hopefully I teach you to feel the same, the title Savvy Shopper just FITS us, right?!
All photo credit to @kathleenhoarephoto
BE A SAVVY SHOPPER
Here's the way I see it. When we teach ourselves what we need most from our wardrobe, it allows us to be super intentional and, well, savvy with our Style Dollars. So when we do spend them, they are on the things we need to suit our Method to Style right now. Some pieces might be trendy, and that is awesome! That said, I think when we become a savvy shopper, many of the things we add to our wardrobe will be classic, and have wearability for many years to come.
DRESS WORN THREE WAYS
Remember the first Confessions of a Savvy Shopper article? I wore that dress three different ways? Well, I'm about to do the same with a totally different dress, and hope it inspires you to see your pieces in a new light!
OUTFIT #1 – BUTTONED UP
Being in the Middle East, there are plenty of full modesty pieces available, and I'm finding myself really liking them. This dress is from Zara, and when I bought it, I had no intention of wearing it as it was being shown, which meant right away I was getting some versatility out of it.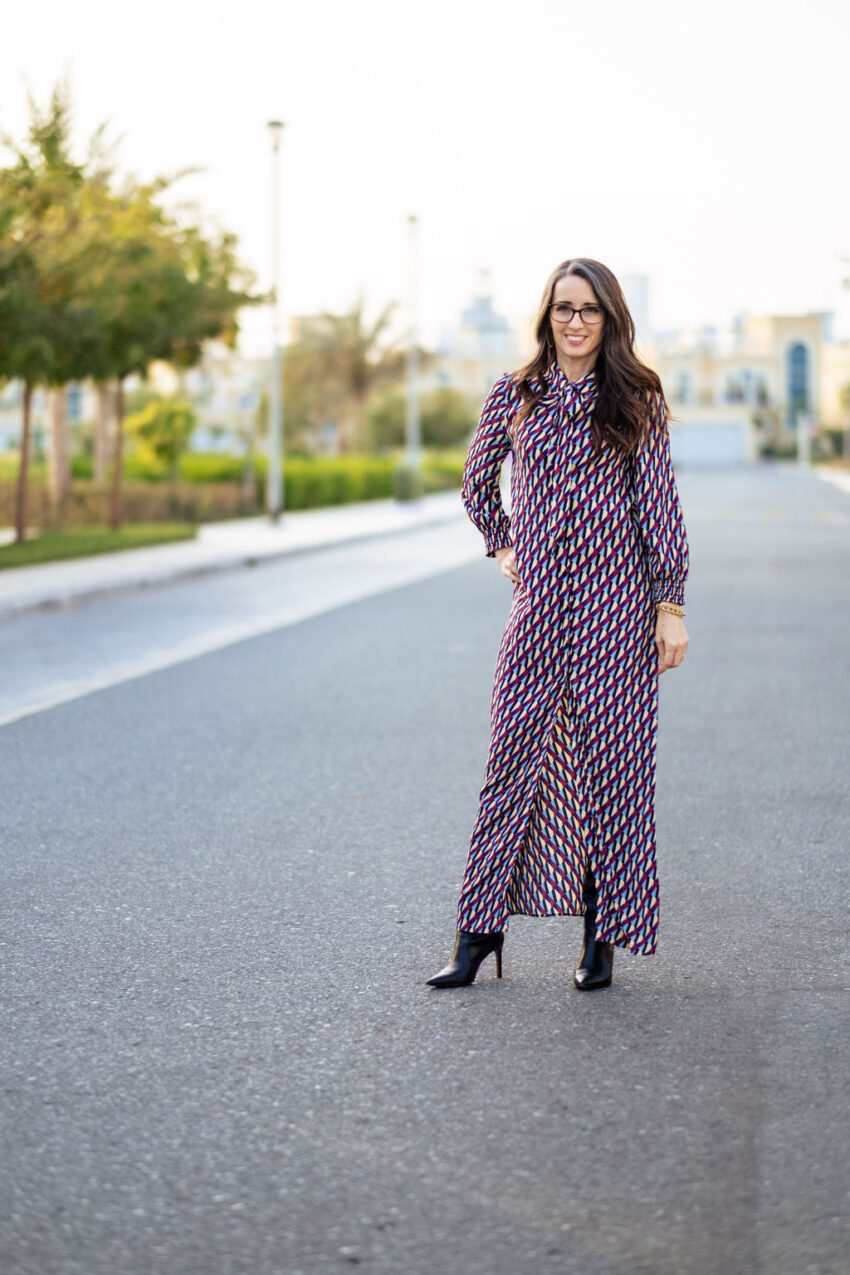 While there are many dresses this style available, I believe when it has this bold of a pattern on it, it kind of needs to be broken up. The scale of the pattern is really important, since the smaller it is, the more it can make your eyes go funny, and if there is a lot of it, like this dress, it can feel too "busy". A savvy shopper like you and I would immediately notice that this buttons all the way down, no zippers or clasps to do up. That alone is a sign this can be worn different ways.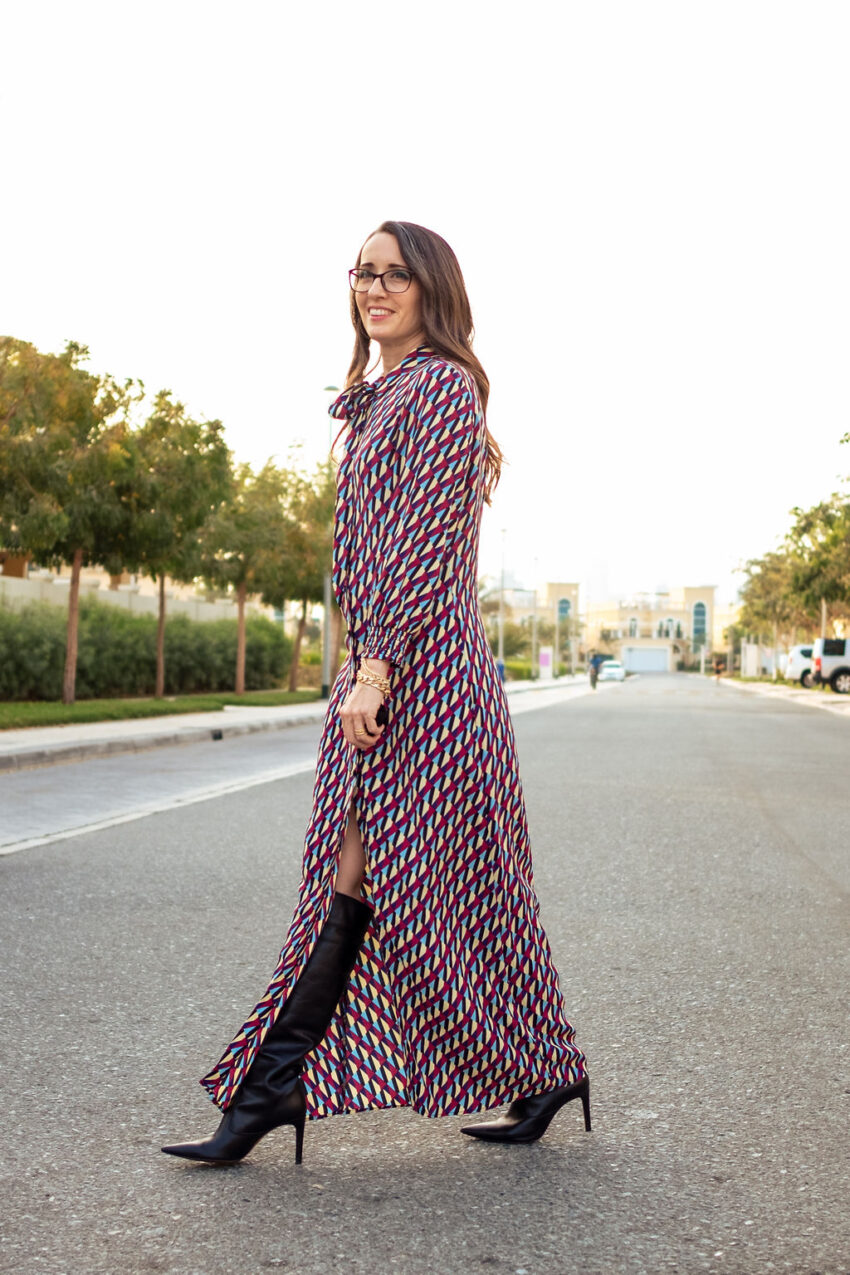 Here it is all buttoned up, bow tied at the collar, and sleeves down. This could be a great option for anyone from Spring, Summer and Fall, just to wear something with full coverage, feels a little feminine since it's not super loose; but also not tight. Then again, it's just not quite "my style" and you may feel the same. So here's another way…
OUTFIT #2 – IT'S ALL IN THE DETAILS
When you have a button up shirt or dress; but love a V-neck shape, undoing a few buttons is such a great way to get the look you want; but also feel a little elevated because of the collar and structure. The space created here fits that fabulous sparkly statement necklace I always wear, and the belt gives great definition for the waist! I also love to hike up my sleeves, and the elastic cuff on these make it super easy. Just has a much more casual chic vibe, wouldn't you say?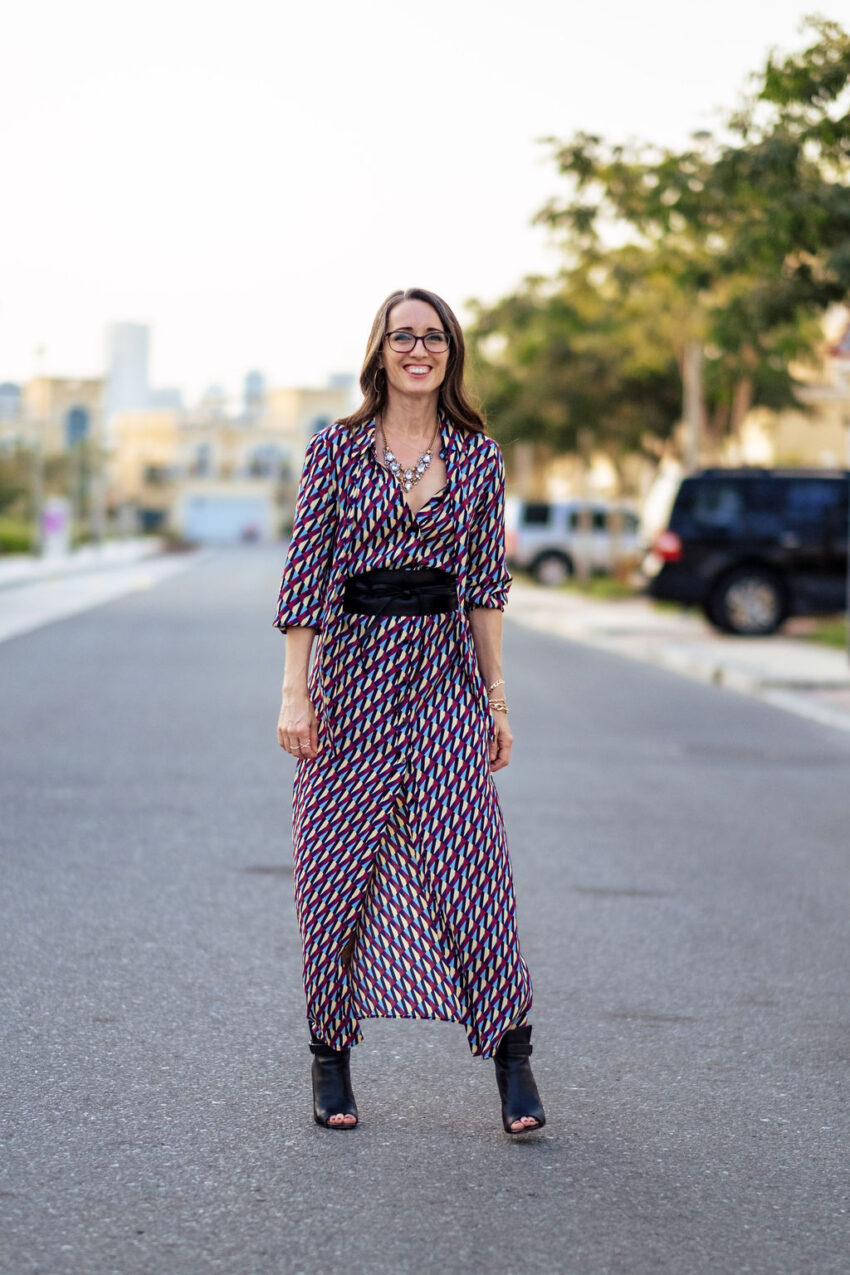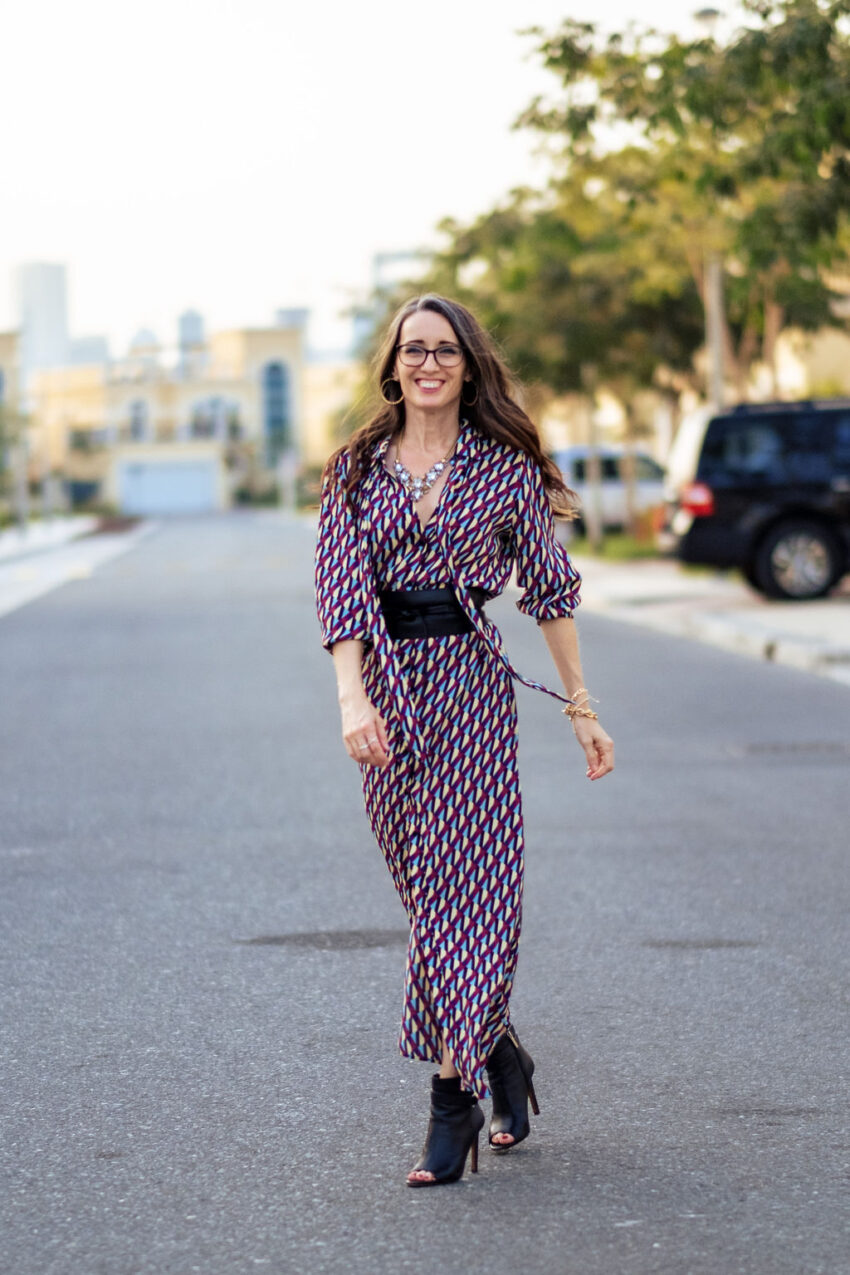 Did you notice that in the first outfit, there as very little shape; but we add the belt and open a few buttons, leave the ties open / loose, now we can see that hourglass shape, even if it's just the IDEA of it, which might just put a little spring in your step. Not to mention, showing a bit more skin in places you are comfortable (chest and arms) lessens how much we see all that pattern. Win win!
OUTFIT #3 – LIGHT AND AIRY LAYER
Do we kind of love this as a long layer or what?! The bold colors in the pattern make it just a little edgy over a plain black tank and denim. Throw on some open toe leather ankle booties and you're ready for anything! The long pendant necklace gives you a nice V shape, which elongates the look, then the cute belt to break things up, and your everyday denim so you are as comfortable as possible. See, style AND comfort are SUPPOSED to co-exist! I'm here to show you all the ways.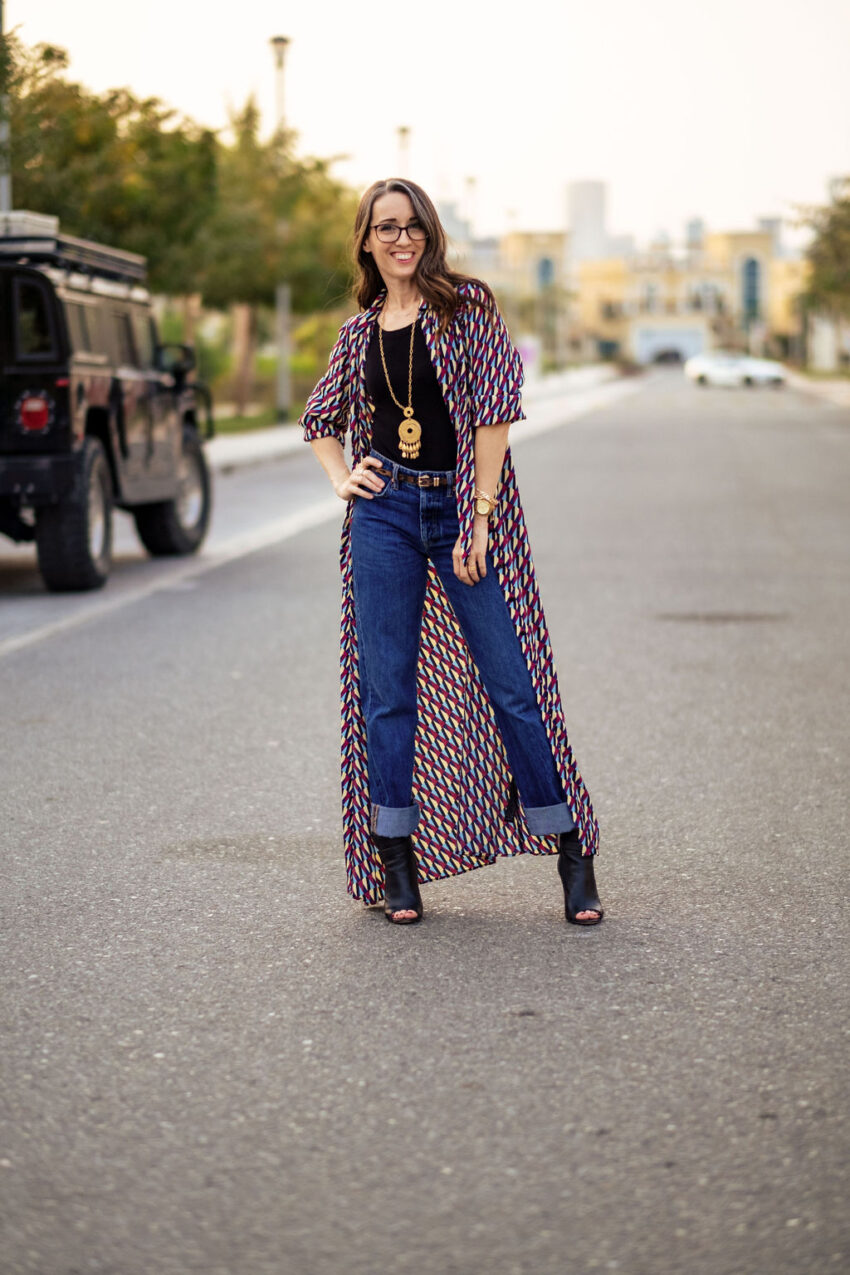 I mean, you could throw this on to go to the darn grocery store or the mall real quick (since the AC is ALWAYS ON BLAST THERE), and feel just a little more leveled up, even though it takes the exact same amount of time to put on that old cardigan. And AGAIN, we are lessening the prominence of the pattern, and treating it as more of a finishing layer to the outfit, than THE outfit.
Versatility at it's finest if you ask me!!
Which look would you be most likely to wear?!
Xo Taryn