When it comes to hair, I am no professional….nor am I very much of a risk taker. For ten years, I did my hair like this: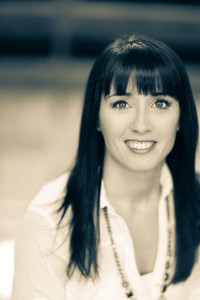 Photo courtesy of Brook Todd. See more of his work Here
I basically colored my hair all one very dark brown color so I could have low maintenance between colors and would once in a while experiment with the length. As SOON as I cut it shorter, I was growing it back out! But I had come to love this easy and consistent hairstyle that could look nice straightened (because while it used to be naturally straight, having kiddos seemed to have given me permafrizz, so I needed styling tools), yet be pulled back in a ponytail while I'm either working out or Momming.
While the color was easy, it is really important to go in for a trim every few months. There is nothing like how soft and even your hair feels after those dry and dead ends are snipped off. My hair is quite thick, so that, and layering, is a must to healthy looking hair.
Product is pretty important too as I have learned! Over the years I have upgraded the level of product I wear in my hair. Anywhere from Pantene, to Bed Head, to Aveeno, to Morrocan Oil and now I'm on to a gorgeous product called MILK and I am going to be doing a write up on that very soon!
COLOR
This can be really fun, and I love how some will just GO FOR IT and have multiple colors, and just super interesting treatments done; but for me, I can't manage how often I would have to be in my hairdressers chair (must give a little shout out to my girl Heather Dee! She's the best! Check her out on Instagram @heatherdee and see all the cool things she can do!) Find a shade you like, and even be willing to go a few shades in either direction with the seasons.
CUT
Choose something that is flattering to your face shape; but does all the things you want it to do in terms of you styling it at home. Yes our hairdressers can work magic sometimes with their brushes, blowdryers, straighteners and irons; but we get home and we look like a drowned rat or like we passed through a wind tunnel in an effort to get as much volume as she did! That is probably why I chose to straighten it all the darn time. You cannot mess that up; but today, I have changed my thoughts on that. I've jumped on that band wagon of the waves and mid length cut and I love it! I'm willing to bet it has a lot to do with the fact my babies aren't babies anymore and I can have a little more time to create curls when getting ready because they are both off to "big kid school"! ANOTHER milestone in raising kiddos!
In the last year and a half I changed my hair up a lot. I went from super dark brown to this beautiful auburn bronde color with caramel highlights. My only condition was the highlights are not on the top layer of my hair so it wouldn't be so obvious when they were starting to grow out. While I felt so smart about that, my grey (I mean, silver….Mom says it's more sophisticated…HA!) has other plans. The only place on my head it comes out is at my part….AWESOME! Anyway….I love that I had my hair one way for a  very long time. Took comfort in how consistent it was, and how I always went with one style; but now, I'm embracing the new look and really love it. And we all know exactly how powerful a GOOD HAIR DAY IS!!!!!
When creating your Method to great hair, start with your shampoo and conditioner. Use products with good ingredients that will really take care of your hair. I am currently using these: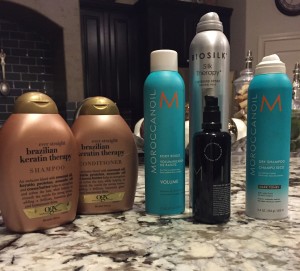 Brazilian Keratin Therapy Shampoo & Conditioner by Ever Straight. I buy mine in the supermarket; but you can also get it on Amazon here
The Milk is in the black jar and is the newest addition to my hair care regimen. You can get it through your hair care professional or I found it here on Amazon as well: Milk (the price point was the same online as it was through my hairdresser; but some may mark it up)
The Moroccan Oil Root Boost is awesome. When my hair is wet, I just lift up a few layers and spray this gorgeous smelling foam along the part that is made and rub it in before blow drying. Here is the official website; but many Hair Stylists carry this line in their salons Moroccan Oil
Biosilk hairspray is just used to put a natural hold on the waves after curling, and that is again, bought at the supermarket or here: Biosilk
The Moroccan Oil Dry Shampoo for DARK HAIR has been amazing! I truly never bothered with it before because it just didn't blend in with my hair color so it was pure joy to see it out in a darker shade, perfect for in between washes! And I usually finish off with some kind of shine serum…and you guessed it, I just ran out of my Morrocan Oil; but the Milk Product can be used on dry hair too! Hooray for multi tasking hair care.
Here's to a whole lot of good hair days in your future!
xoxo   Taryn