If you had a chance to read my first post about my oh-so-loved Ripped Jeans (Elevated Chic), this is the second of three looks in the series, I hope you like it!! All photography for these articles is done by Jonathan Ivy (find him on Instagram @jonathanivyphoto)!
A quick recap on the denim….it's my all time favorite brand Rag & Bone . Before you roll your eyes at me, this brand is definately and investment piece in my world. To drop that kind of cash on a pair of jeans is something I don't do often or lightly, SO, they need to fit great and be worn with pretty much anything in my wardrobe. I feel like these fit the bill because the color is a little unique…not super dark; but not faded either. Then came this distressed pair this Christmas and I wanted to show off a few of my favorite ways to wear Ripped Jeans.
This look is something I would wear pretty frequently actually. I am of the mind, in this season of my life (both kids in elementary school so I have way more time to focus on me than I did when they were babies) to put myself together pretty much every time I step out my door. Walking through the world, (even if that means the grocery store, bank and post office most days), looking finished / polished because there's no bad time to look and feel great.
You might recognize this blazer from a previous post I did called Wear Anywhere Summer Style and it's worn very differently here, than that outfit. Now… living in Houston, there are not alot of days where a blazer is needed (unless inside against the constant A/C!); but it's a GREAT staple piece to have in your wardrobe, so I loved pairing it with this VERY TRUE graphic T and my ripped denim.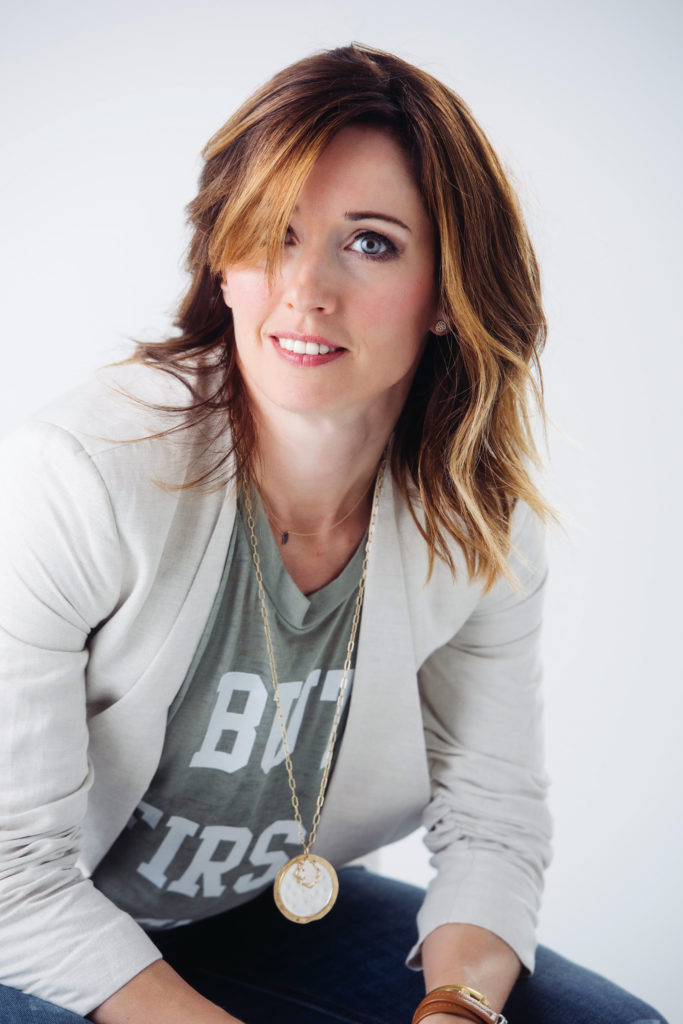 I have to say this, so my apologies for being long winded. When I looked at this blazer in H&M, here are all the things that went through my head that made me want to use my hard earned money to buy it……it's linen (versatile fabric and perfect for Spring – Fall), it's fitted on the sides so it's flattering, it's got the lapels but no collar, so it won't mess up my hair in the back, it's got 3/4 length sleeves with a cute ruched detail at the elbow so the wrinkles this material is SURE to get; but not look messy…they are kind of supposed to be there, and of COURSE, I can wear my favorite arm party without the sleeve of the jacket interfering, and lastly, it doesn't close so it is a more casual take on a tailored jacket. BOOM…..yep, THAT is how I look at fashion. It's got to make sense and a thought process like that happens for me in about 30 seconds when I'm looking at something.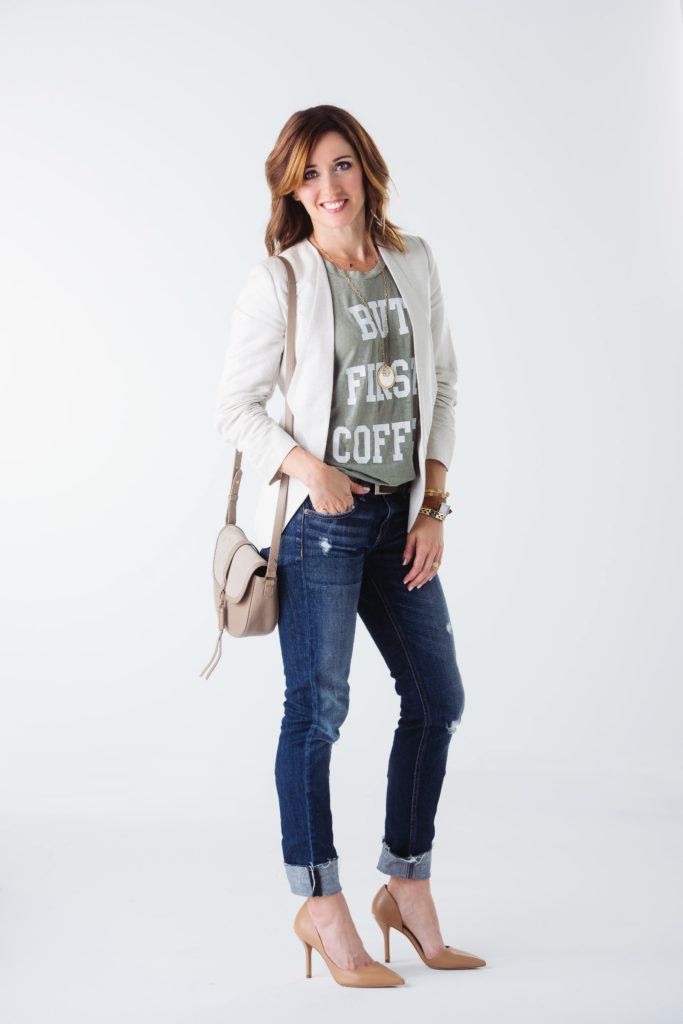 But First, Coffee…..come on….don't even try to tell me that doesn't speak to you!! It may be once in a while (hmmmm…) or daily (ME! HAHA!) I love Target for giving us cheeky little graphic T's at a really affordable price. I think I bought this one for under $15; but I've linked some other cute ones below! Not going to lie, when I take the jacket off, I do love it just as much. It's a sleeveless T, and since I started working out with my husband, I'm not afraid to say my arms are the best they've ever been, soooo, there's that. But I feel like putting a super casual T under a blazer is a GREAT way to look polished (along with awesome accessories of course), relevant, professional and chic!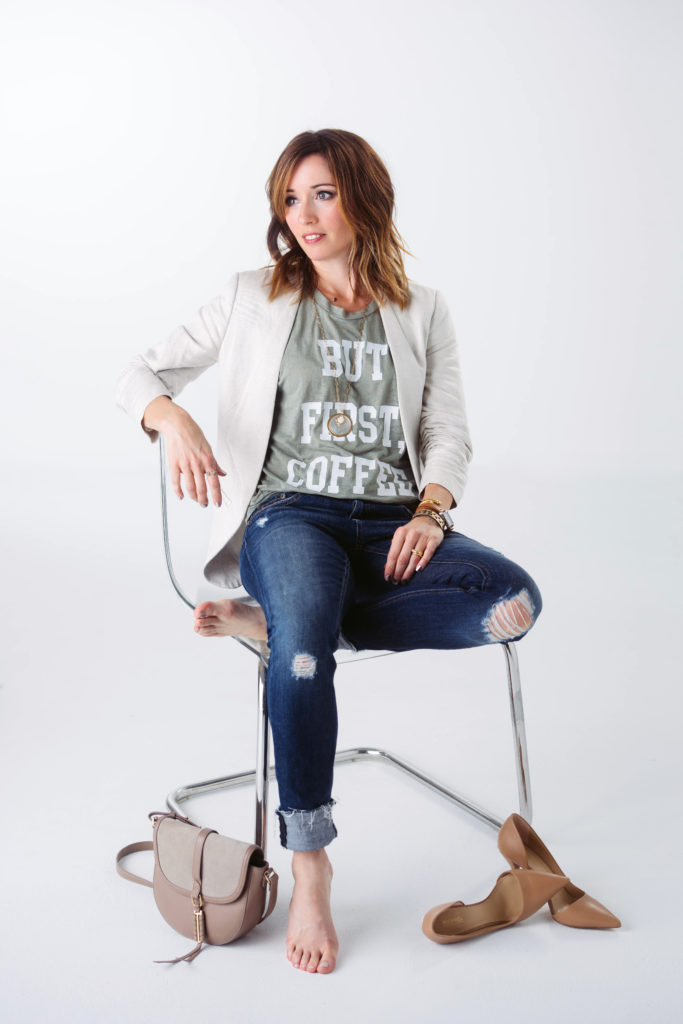 Pairing this outfit and accessories (click in my Finish The Look tab to find the ones you LOVE) with a pair of nude pointy toed heels just takes is past a casual outfit. And, truly, I'm that chick that is #happyinheels and will wear them pretty much anytime. You could also do a flat gladiator sandal, that would be so cute, or a heeled caged bootie to make it a bit more casual. This look, however, with great heels, has me standing taller, shoulders back and chin up. Yep, I passionately feel deep down, when we find our authentic Method to Style, fashion can 100% do that for you.
I hope seeing this outfit inspires you to dig through your closet and find a Effortless for Errands outfit of your own!
xoxo Taryn