It has been years since I can remember when I have had to purchase a full length "fancy" gown. Like, I think the last one I bought for me was my wedding gown! Which just tells you that this girl doesn't get too many chances to be fancy, which might be why my street style game is cranked up.
Fancy & Navy, The Perfect Combo
This is my all time favorite color. I know black is a classic color for a formal or fancy event; but navy is just timeless in my eyes. It's a color that I feel beautiful in, so, naturally, it's my GO TO for alot of things. My very first blazer for my "real job" – Navy. My first legit suit – Navy pin stripe. It's probably also why I love jeans so much! Just another version of navy.
Enough of that, let's talk about this. Why the heck do I have it? Well, Kent and I were invited to a Winter Gala put on by the church, by some very close and very generous friends. We were fortunate enough to go last year and I proudly wore my Favorite Fall Dress. This year, I quite accidentally came across a rack of beautiful gowns at Dillards, on a massive mark down. On sale, plus another 65% off of that? The original price for this fancy dress was $268, and I paid less than $90. SSSCCCOOORRRRRREEEEE! Since this year, the event landed the day after our anniversary, AND it was on a massive sale, I used those details to justify the purchase.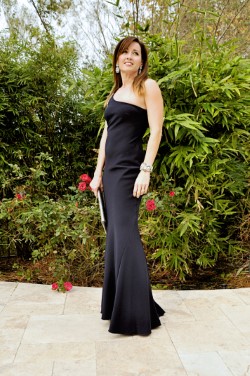 Not So Fancy Photoshoot
Well, here is how this scrappy, working on it, rookie blogger takes photo shoots. The event I bought this fancy gown for had come and gone by the time these pics were snapped; but it was so worth sharing, so my very good friend Ginger (@leftloopstudios) has some experience behind the camera. I asked her very nicely and she agreed to come over with about 3 days notice, to shoot this dress in my backyard. While I really would have loved for it to be a more decadent background for you, with beautiful twinkly lights, a Christmas tree in the background and a glass of champagne in my hand, I give you, fancy in my backyard.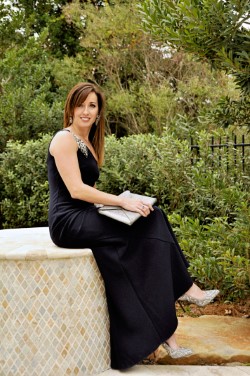 Isn't it just classy?? I will admit, this amount of sparkly, is far more my comfort zone than the Sequined Dress I wrote about earlier this month. I put this fancy dress on and I don't remember the last time I felt this pretty. When is the last time you had that moment??  I'm not in the best shape I've ever been in, my arms aren't as ripped as they were last year, etc, etc; but regardless of all the things I'm feeling slightly self conscious about, I put this on, and it didn't matter. I was so excited to surprise Kent with it.
Elegant Dress Gets Some Super Fancy Shoes
Ladies…I mean….can you just?! I NEVER EVER imagined I'd have sparkly heels like this. Now these are over the top; but I chose them because they were meant to peek out from under the heavy yet flowy skirt of this gown. Maybe enough to make you do a double take, yet when you cross your legs at the table, they are kind of a show stopper. (It's always about the little or unexpected details people!!) You may catch me rocking these with jeans over the holidays; but they finished this look perfectly. Trust me when I say a photo does not do these shoes justice. So much sparkle and a hematite colored heel. Just all kinds of cool. Would also look pretty snazzy with dark distressed denim and a chunky heather grey sweater with some sparkle and black to finish the look. Hmmm,  maybe watch for that to come to the blog.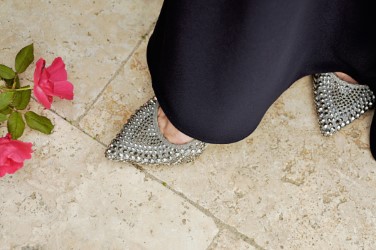 Accessorizing the Fancy Dress
Sometimes, this can be tricky. You don't want to take away from the dress; but you can't NOT accessorize. For me it's a fine line and I went with coordinating Stella & Dot pieces. Mostly because that is what I had; but here's why these were my best choices. The snakeskin texture and metallic finish of the envelope clutch speaks to this being a formal look. A glam statement bracelet on the opposite wrist of the shoulder with the crystals balances out the look. Carrying the clutch and putting the bracelet on the arm that has no strap evens out the "weight" of the look. Meaning not all the details are on the same side, so it encourages the eye to take in all the little details.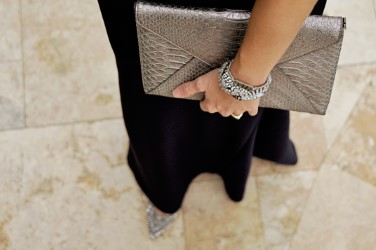 I don't usually wear matching sets; but these earrings were light, easy to wear and the sparkle peeked out of my longer hair. Not being super obvious all the time; but again, no question it dresses this look up.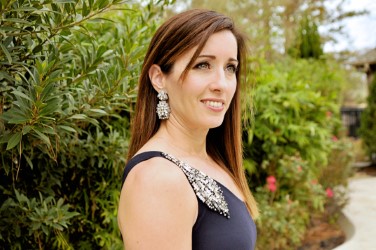 Almost a Train…That's SUPER Fancy
All I'm going to say, is this gown is slightly longer in the back than the front, which gave me the look of trailing fabric. I mean, if that's not enough to make you walk tall and feel all the fancy feels, I'm not sure what will.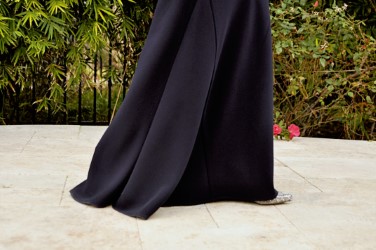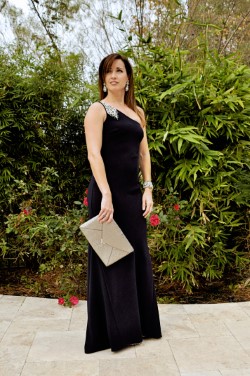 Thank you for indulging me on my fancy dress. I hope, hope, hope I have many more reasons to wear it. Not only does it have great flow and fit, the fabric has some stretch to it, is lined from top to bottom and has some pretty seam work that is not obvious in these photos. Like I always say, there is never a bad time to put on an oufit that makes you want to stand up tall, hold your head high and watch your man get googly eyes for you again.  Here are a bunch of options I though you might like that are similar; but slightly different:

Happy Celebrating friends!!
xoxo Taryn