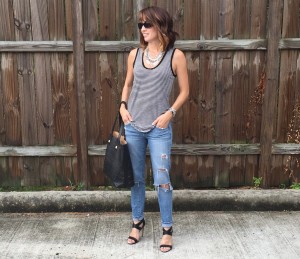 A Little Background….
My name is Taryn Meyer, I'm first and foremost a Wife to an amazing man I am blessed to spend this life with, a Mother to two gorgeous children who while I love more than anything can drive me absolutely batty, and I regularly alternate between wanting them to stay young forever, and being excited about what comes next for them as they grow up. I'm a Believer in Jesus Christ and strive to Love as He loved us and live a life of grace and humility. I had a "real job" in the Oil and Gas Industry for 12 years; but left that a decade ago to be a Stay At Home Mom. I have been building a home business as a Stella & Dot Stylist for the past 7 years.
Fashion and clothes have been a love of mine since as long as I can remember, always pushing the boundaries and experimenting with my personal style since High School; but think I found my niche around 28/29.
While I love real live interaction with people, connecting on social media makes me miss the people important to me, more than it makes me feel close to them; but it also connects me with new friends from all over the world. I love a good, hot cup of coffee at literally ANY time of day, and it strangely makes me feel close to my Grama because she's the exact same way, and I love her so very much. I love telling people I'm thinking about them, and also being told the same at random moments of the day. This is where texting makes me so happy.
The TLC show What Not To Wear was my Must See / Reality TV for almost the entire 10 years it aired.  I learned SO MUCH about how I approach fashion today through Stacey & Clinton's wit, humor and experience, that I find myself thinking about them randomly as I shop. I also loved Instyle Magazine from my mid 20's on, it was a HUGE guide for me and I absolutely loved where it showed the appropriate fashion choices for women in their 20s,30s and 40s. It made really good sense to me!
I'm addicted to accessories…..it's how you Level UP your outfit to max out its potential, and it is SURPRISINGLY easy and takes the least amount of time when preparing for the day. I LOVE a deal; but I also have come to LOVE some higher end brands so I work very hard to be what I like to call a Hi/Lo Mixologist…..a little bit of everything. I love to shop in department stores or boutiques; but I'm not always crazy about trying things on so the return policy has to be solid (which is why I love Nordstrom!)
But most of all, I just love to be helpful.  I think all women do. We love to share the name of our hairdresser, where we got those shoes, what dance classes our daughter takes, what gymnastics place is the best, where to get a fish taco to DIE FOR, and anything in between! I love the idea of helping someone define their authentic style. I LOVE to share and contribute somehow, it's just WHO MOST WOMEN ARE, so I embrace that about myself, and springboard it into the world through this blog. Here's to finding our Method through all the Madness together!! xoxo Taryn
My skills