Hey friends!! I got myself dressed in this black cold shoulder, pajama style material top, my AG Jeans and those faux suede, low heel, pointed two booties I mentioned in a couple posts from Forever 21! This is a great combo to put together easily and look like it flows easy. Effortless style, YES PLEASE!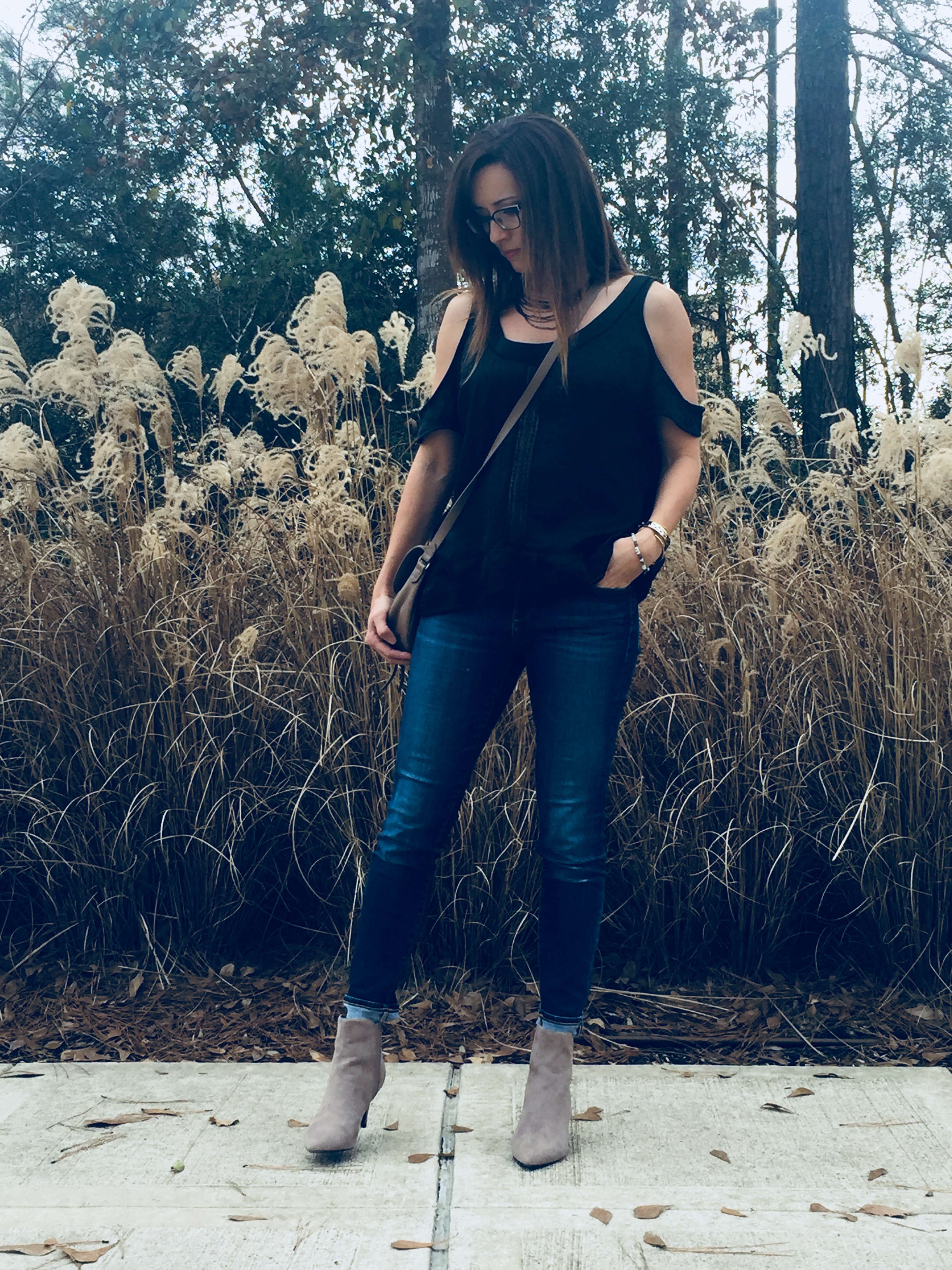 BLACK TOP WITH NUDE SHOES?
I will admit, I never, ever used to think it was ok to wear shoes that didn't match your belt! Were you in that category? It was a pretty hard and fast rule when I was starting to really find my Method to Style; but now I realize there is so much more fun to be had with shoes!
These pointed toe booties help to elongate my legs (remember, I'm 5'4″, so I'll take all the height I can get, even if it is an illusion), and are a great heel size. Not too high; but not even close to a flat. Since heels make me feel a bit more dressed up I like it! ALOT.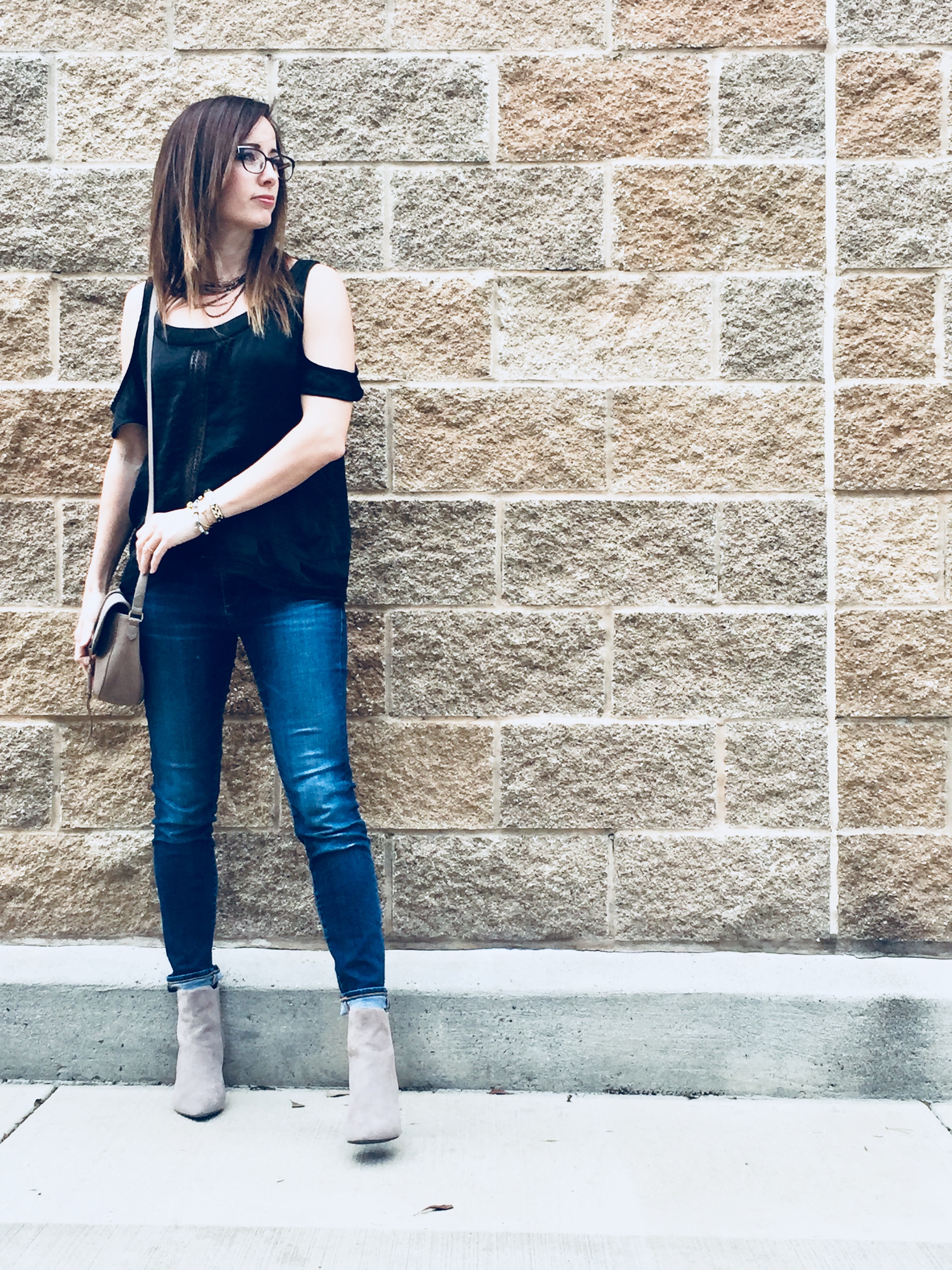 LACE AND THE PAJAMA TREND
Last summer, there was a certain trend that came out. It was all about shirts that looked ALOT like a button up pajama shirt, material included! I wasn't super in love with that, although some bloggers pulled it off beautifully! I found this top at Nordstrom from the brand called Hinge, and felt like it was flattering, a peplum (which I've never owned) and I LOVE the lace detail down the middle (which pretty much makes a nude bra a MUST, a black one or heaven forbid a colored one, would just add more lines to the look, and with this, classic and all black was my preference).
This top also boasts a scoop neckline that can be accessorized more than one way, a thinner, flowy material that will look beautiful under a blazer or keep you looking and feeling cool in the summer heat. If you work out, this will show off those gorgeous arms perfectly!
This black top isn't a solid material so it's got a sexy edge to it. Nor is it tight, so you can sit, stand, eat and drink comfortably in it. I like outfits like this with flowy tops and skinny jeans, ESPECIALLY when I'm superfit (which, full disclosure, is NOT right at this moment….sigh). No need to SHOW every hard earned muscle to people, just knowing yourself gives a huge boost in confidence. Shoulders back, and head up ladies, you look fantastic.
SKINNY JEANS
These are my AG skinny jeans. They've been a staple in my wardobe for the past 3 years. Good stretch; but also hold their shape. I like these ones being the ankle version so it pairs pretty well with my booties. There is a nice worn look on the front of the thighs and knees; but with no distressing, can be dressed up easily.
My only issue with these jeans is the pockets are TINY….and I love my front pockets! See how I can't even get my hand in much past my fingertips. UGH. I mean….what is that pocket going to hold, right?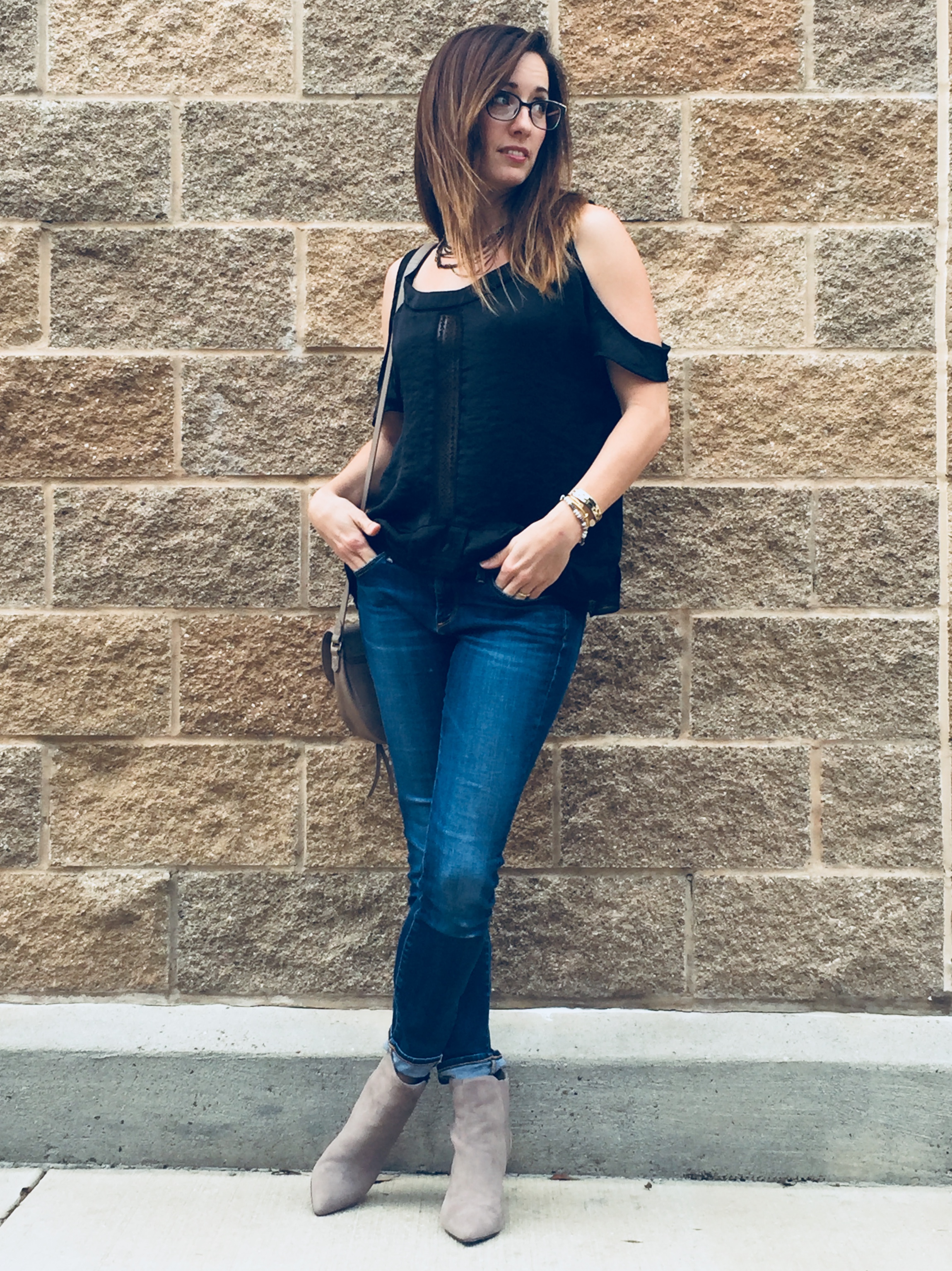 ACCESSORIES
Nothing flashy; but always a great way to finish the look. I chose a black and gold layered delicate chains for my necklace (of course paired with my diamond arrow!). I have been carrying my mushroom colored leather and suede crossbody bag pretty much every day, and it just happens to tie my shoes into this outfit nicely! Finished that off with bracelets accented with black stones or black leather with a gold plating.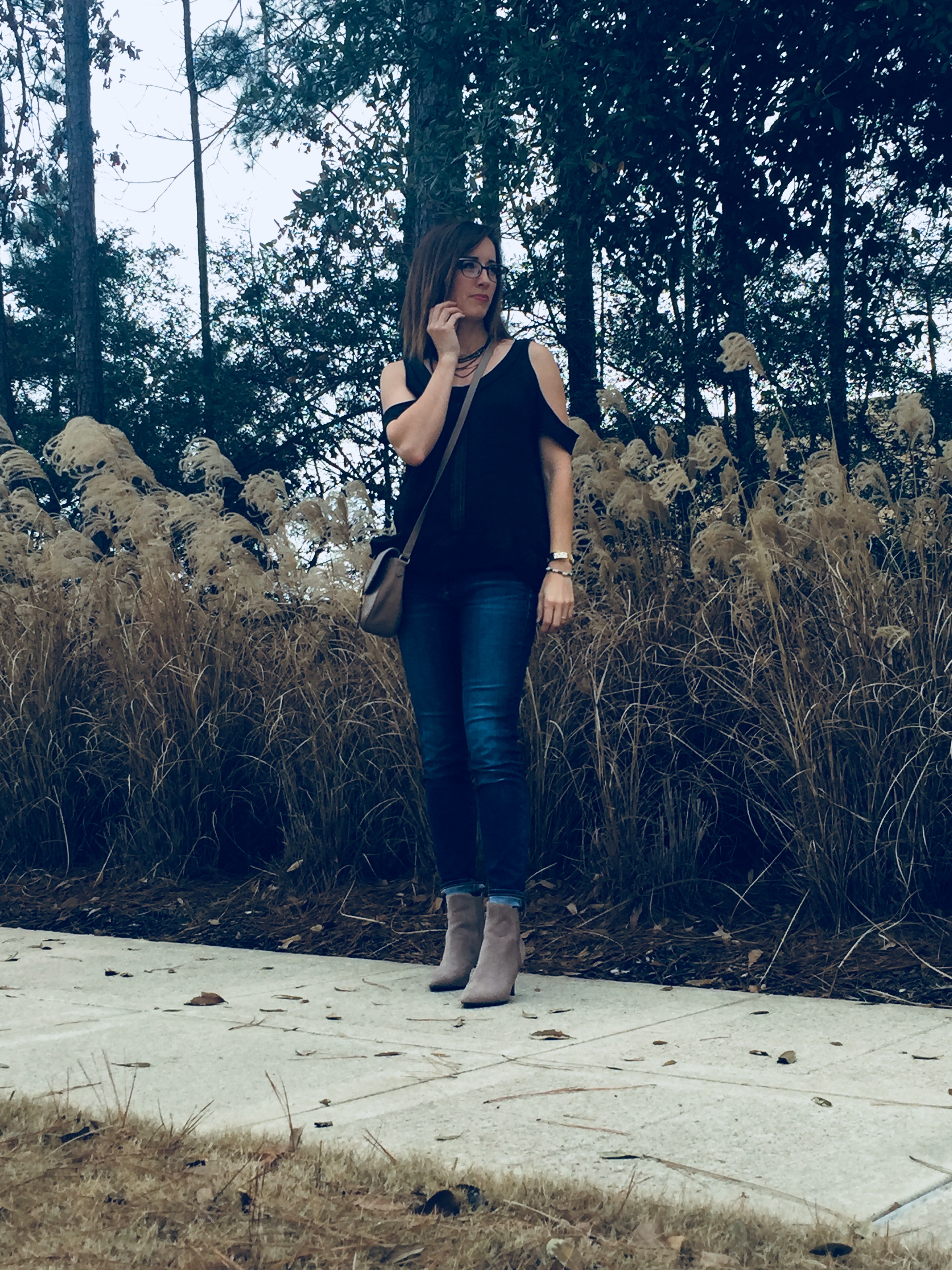 OUT THE DOOR IN 15 MINUTES
This is one of those outfits that once you find something similar in your closet, or get that piece you might be missing, will be an easy one to grab if you get last minutes plans to meet a friend, grab lunch with your hubby, have errands to run or (if you are like me), browse the shops all on your own. I promise it's as comfortable as your yoga pants and workout top, so go ahead, set those aside to sweat it out in tomorrow!

xoxo Taryn