Welcome to my Tuesday Series of Tips to Looking Stylish! I hope they help you when you are standing in front of your closet wondering what to wear!
Embrace the one color outfit…it can mean ANY color really, and then you can add some distinction or interest with not only the different fabric choices; but a colorful bag or shoe and of course, a few great accessories (Click on Finish The Look up top to find your favorites). Talk about pulled together in a snap.
Big tip on this is to choose different textures over different shades. Like black ripped up denim with a slouchy black T and black moto jacket, or over sized chunky knit sweater (the slimmer on the leg, the more volume is good for up top, don't want EVERYTHING to be tight). Go with the leather legging (or faux leather), heels and a flowy blouse, longer in the back than in the front, or give the leggings a 180 and go with a waffle knit causal top and cute sneakers (see my previous post on some cute options HERE.)
I'll tag some jeans and T's I found here:
These HUDSON SKINNY JEANS are awesome and just got an awesome markdown….$205 jeans for $135!!
These ARTICLES OF SOCIETY jeans are under $60
This FREE PEOPLE slouchy longsleeve T with some cool grey accents
Or this TROUVE sleeveless top (one of my favorite brands) is marked down to under $20!!! WOW (and it comes in 4 colors!)
Black, or any other color, takes on a different tone in every fabric. So that is what breaks it up and gives your eye interest! Satin is super shiny, silk is a little less shiny; but luxurious. Wool is different than cashmere. Rayon is different than cotton. Leather is different than denim, right? So when you mix them together, put a shiny with a matte, or chunky with smooth. Makes your look appear effortless and chic.
Tuck the front of your top just slightly in at the waist band, not all the way…just to slightly define your waistline, especially if there is volume on top. No matter if it's jeans, shorts or skirts, give it a little tuck on the side and you are good to go!
After looking at my closet I found I have a lot of black, blue and white / off white tops. I took some pics to show you what I mean….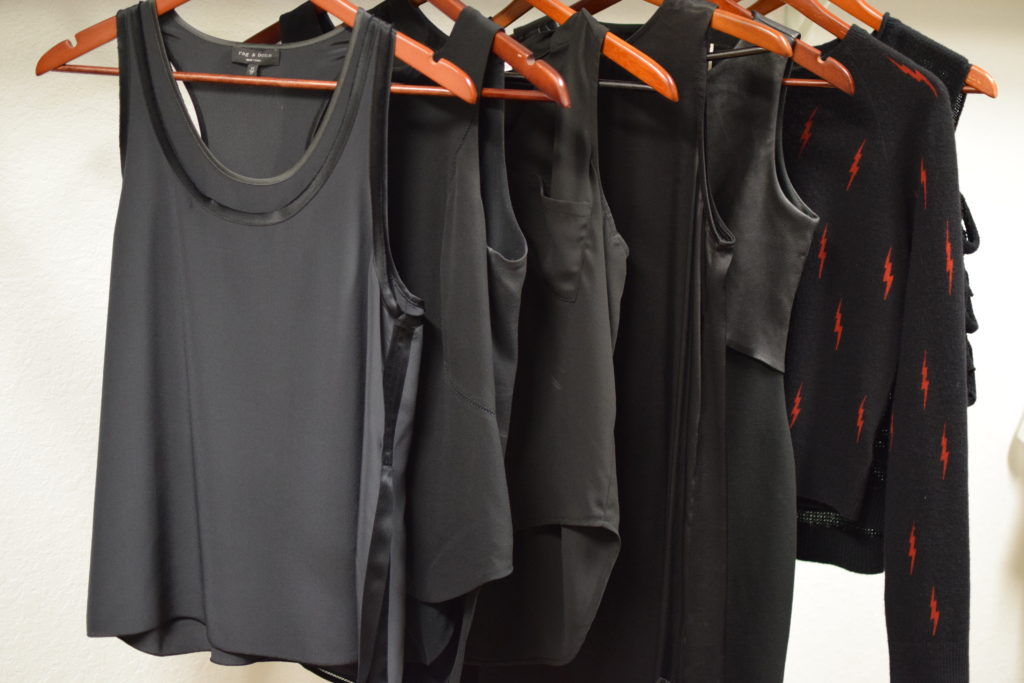 I would wear any of these black tops with my regular denim; but have worn ALL of them with my coated black denim as well. Another tip…my opinion, monochrome makes you look taller! And at 5'4″, I will take all of that I can get.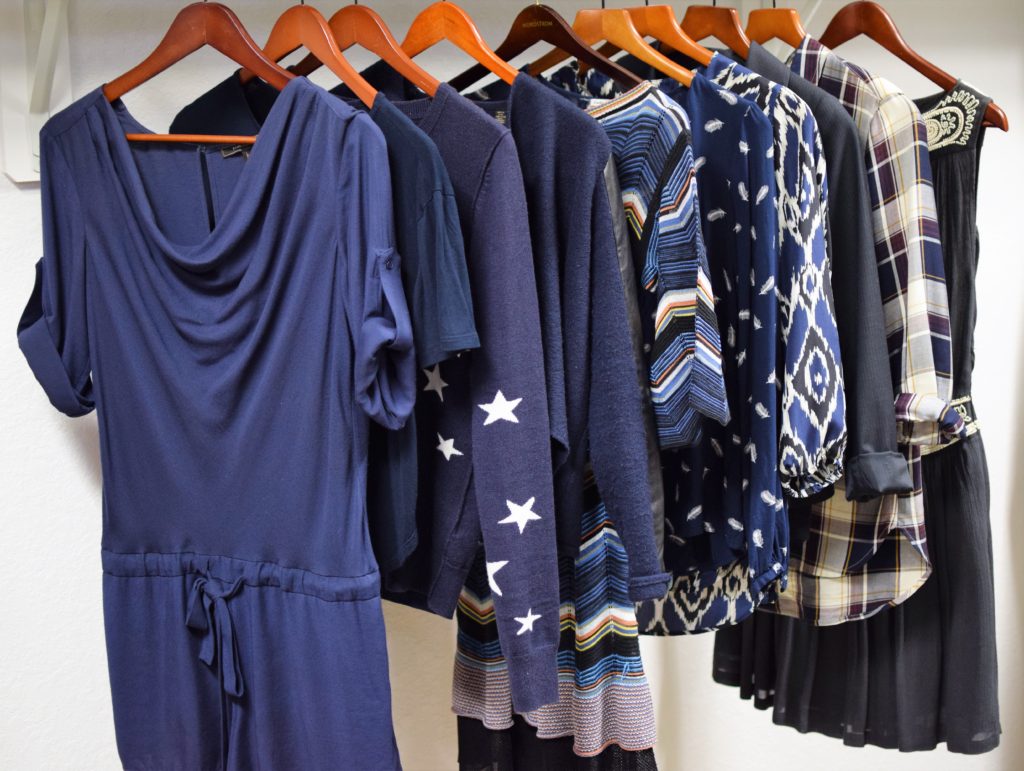 Jumpers, sweaters, T's or within the patterns…navy is clearly a definate favorite of mine. These are a little less monochromatic due to all the patterns; but it shows I've clearly got a thing for dark blue.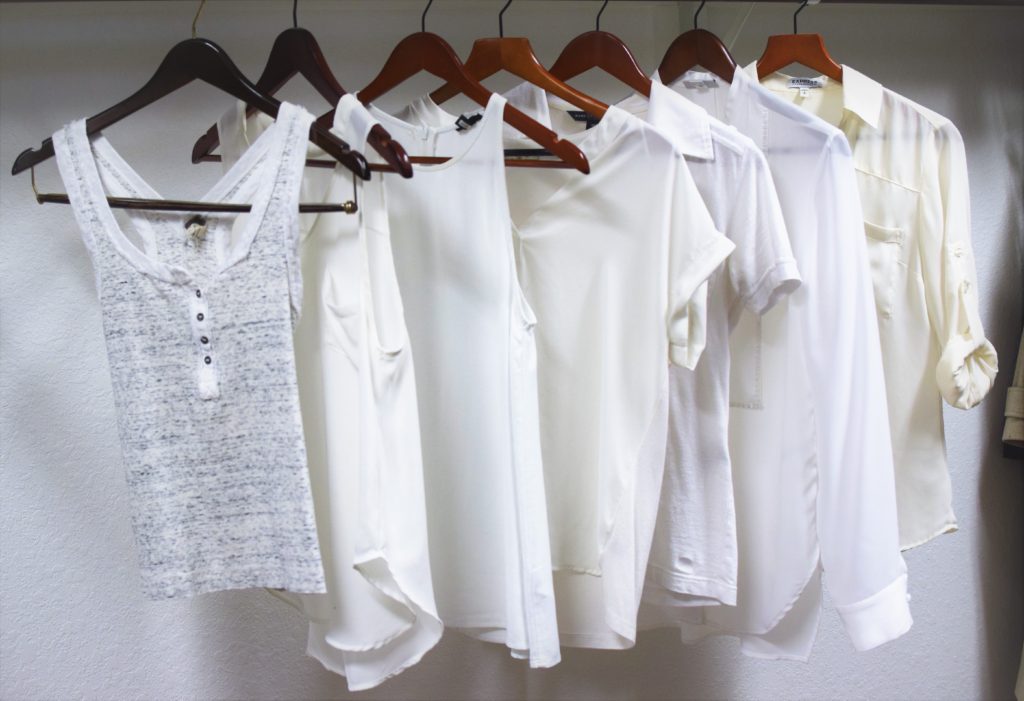 And when I'm in stores, I will walk into the dressing room with a number of very similar versions. I love the look of breezy white top (clearly) and will very likely be purchasing more this year. When you know what you like you stick to it I suppose. But with this color….I would do a white jean; but a slightly off white / winter white top, just to give some variation and a nude shoe. A head to toe white outfit doesn't seem as versatile or casual as an all black or navy. And let's face it, if you are a mom with littles….you will NOT be choosing that to wear! One set of sticky fingers and you've got your pop of color on the outfit, right? haha! The other color I gravitate to every time is this camo green….but in this case, I typically pair it with my favorite distressed denim and a nude heel; but I have no problem wearing all 5 of these tops, one day after the next! Hmm, maybe that just falls under consistency?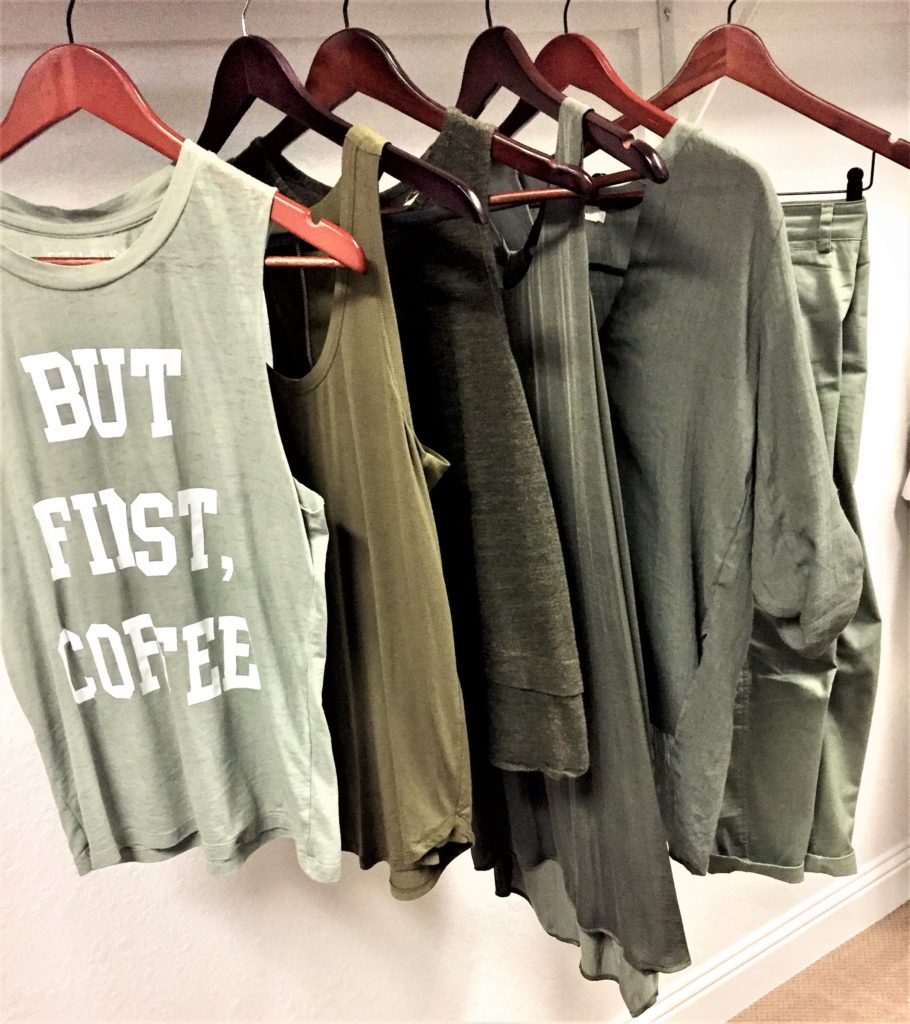 So don't be discouraged if you have alot of one color in your wardrobe….with a few tweaks or additions you will be able to mix and match you favorite color with anything, and potentially never run out of outfits again!
Last thing I'll note….be sure to take care of each of those fabrics properly! Especially if you invested in them. Silk is super delicate, and like wool, has to be dry cleaned, and honestly, to keep dark colors true, they need to be laundered in cold and hung to dry. Take good care of them and you will be wearing them, and looking FAB, for a long, long time.
Next week, we are talking STRIPES!
xoxo
Taryn