Last month I did this little thing I called #fivedaysofflatlays on my Instagram (@tarynjmeyer) and it got some pretty good responose! So I thought sharing something like that here would allow me to elaborate a tiny bit more on the outfit, its components and where I would wear them…..hope you get inspired to dig through your closet and find a new combo after seeing this! Everything in these photos are pieces I've had in my closet for quite some time
Granted, these outfits were created in the first few months of 2017 so going into spring / summer, they may not all be seasonally correct; but I DID wear them when I could…and maybe you will have some inspiration for NEXT winter.
Look #1: Cashmere and Heels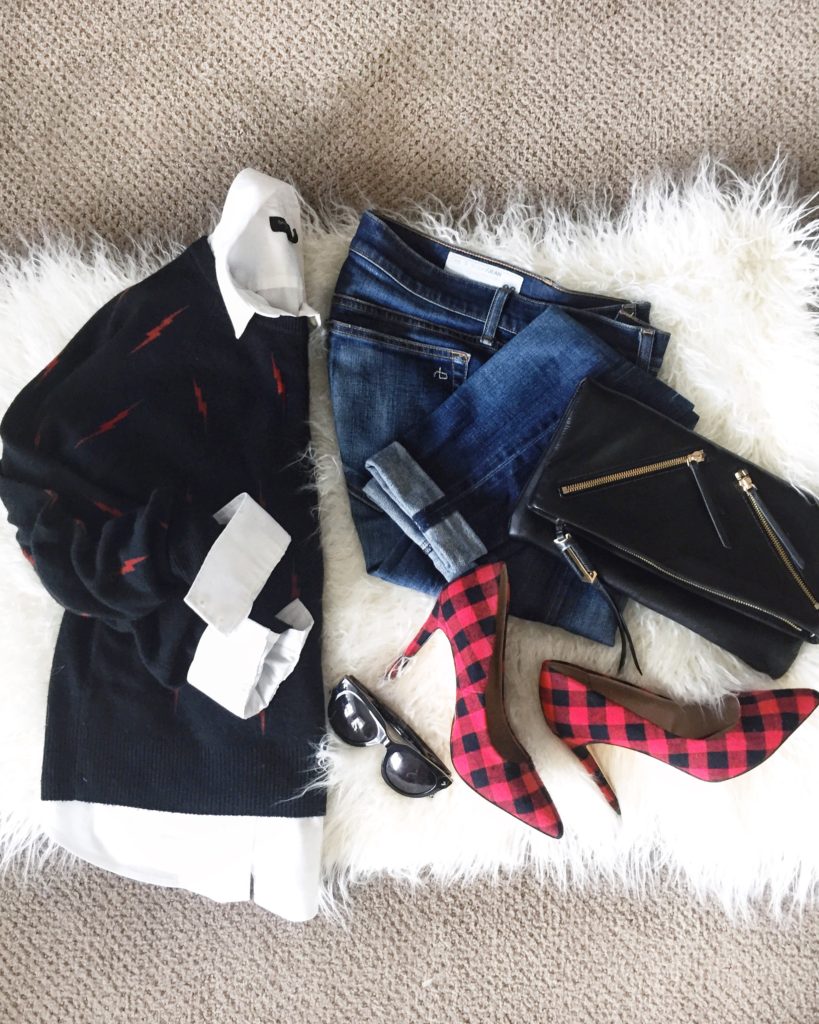 This is one of my favorite looks….denim and heels….(insert heart eye emoji). Here I took a great crisp white button up (this one is from BANANA REPUBLIC) that I would have TOTALLY worn on the regular in my former life as an Executive Assistant, now I get to wear it once in a while under a super cool sweater. I love how the cuffs, collar and shirt tails can elevate the look from casual to just a bit more. I love, love, love cashmere and I am super duper lucky to have a couple sweaters in this material, it is positively dreamy. This one is black with red lightening bolts from the brand Equipment ( a total splurge from Nordstrom; but it was a Christmas gift from my hubs!) and it makes me feel awesome when I wear it.
These shoes have gotten THE most attention on both Facebook and Instagram! WOW! I love a buffalo check, and apparently many of my viewers do too. Word of warning, while I got these at DSW for under $25, they look great; but after about 2 hours, feel like a $25 shoe….which makes me so sad! BUT….yep, I wear them over and over. This pattern adds alot of interest to a typical jeans and t-shirt / sweater outfit. I strongly suggest you find some colorful heels to jazz up any look.
Rag & Bone boyfriend jeans (Dre fit) and then I never wear a jean anymore without at least one roll up in the hem. Its just my thing I guess! Finish the look off with a pair of super cool BLACK shades and a buttery leather clutch that also has some edgy zipper detail on it, and you are good to go! Whether to lunch with the ladies, errands downtown, even a casual date night with the hubs. Looks dressed up, casual and classy (in my opinion), all in one.
Look #2: Daytrippin'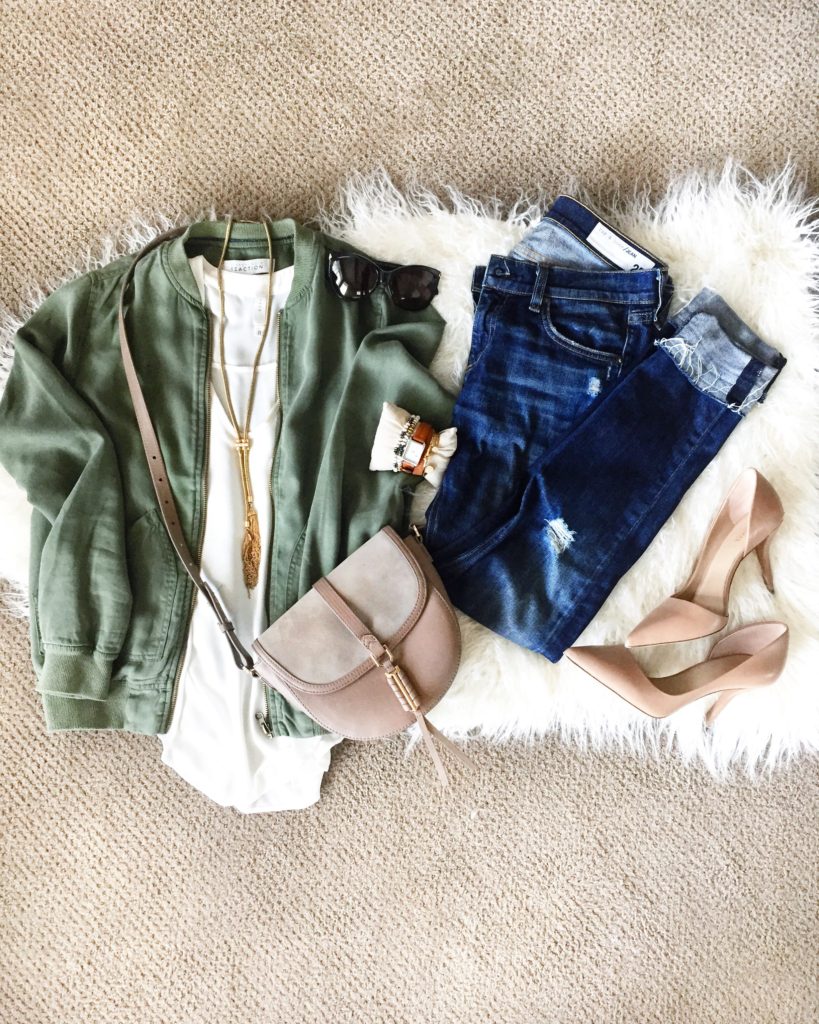 I actually wrote a blog post on this outfit last month called Ripped Jeans – Part 3 – Daytrippin' and I really do think this is a very comfortable everyday style. It's got it all…a light on trend bomber jacket that I got at TJ Maxx for a steal; but it is a style that I can wear year over year. A flowy blouse I got two years ago from Nordstrom; but it's a brand called LUSH that is very affordable and has held up incredibly well over time and laundering. BONUS!
These jeans are also Rag & Bone but my newest pair (I tend to get a pair every two years or so) and these are ripped up; but still a dark enough wash to be both dressed up and dressed down at the exact same time. Add a pair of super cool pointed toe heels (also found at TJ Maxx for a steal!) and you are good to go!
Accessorizing is also important to finish the look. My go-to is gold….so this lariat necklace with tassels on the end add flow and movement, just like the top is flowy. The mushroom suede and leather crossbody bag just seals the deal. We don't ALWAYS need that gigantic tote that weighs a ton….honestly, try wearing a crossbody and shopping hands free! #liberating
Look #3: Rock & Roll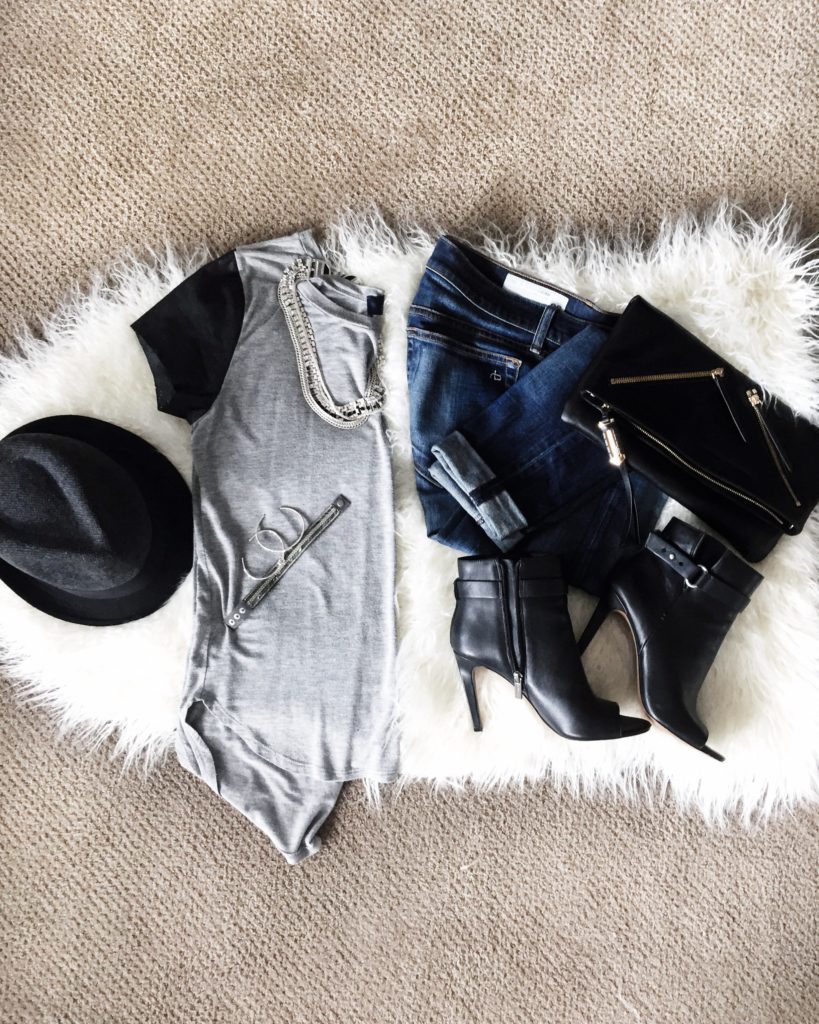 Black, grey, my boyfriend jeans, open toed heeled booties and a super cool felt fedora…..I mean……that's just awesome. Chunky silver statement necklace that actually has a gradient in the stones that from clear to grey to black! (By the way, ALL of my accessories can be found in my Finish The Look link at the top of my home page!)
It is ALWAYS a good idea to have a great hat for each season in your closet….it can take a bad hair day and make it amazing. It can top off a look that may seem a little "plain" (it IS a grey t-shirt and jeans, right?). And then there are details….take note of the sleeves which are a faux perforated leather and the rest of the T is a nice, almost slinky material.
These boots get a shout out….UNLIKE the buffalo print heels above, I could walk in these all day! Yep, they are high; but the leather is soooo good and the open toe allows a little more comfort so they are my go to heel. They are BCBGeneration and I got them at Dillard (ON SALE!!)….yeah baby. The exact pair aren't linkable; but I have some similar options here and here
So the next time you need to hit the mall, run to the grocery store and bank, or meet up with your peer group to discuss your blog, consider being a little big Rock & Roll.
Look #4: Spring is in the Air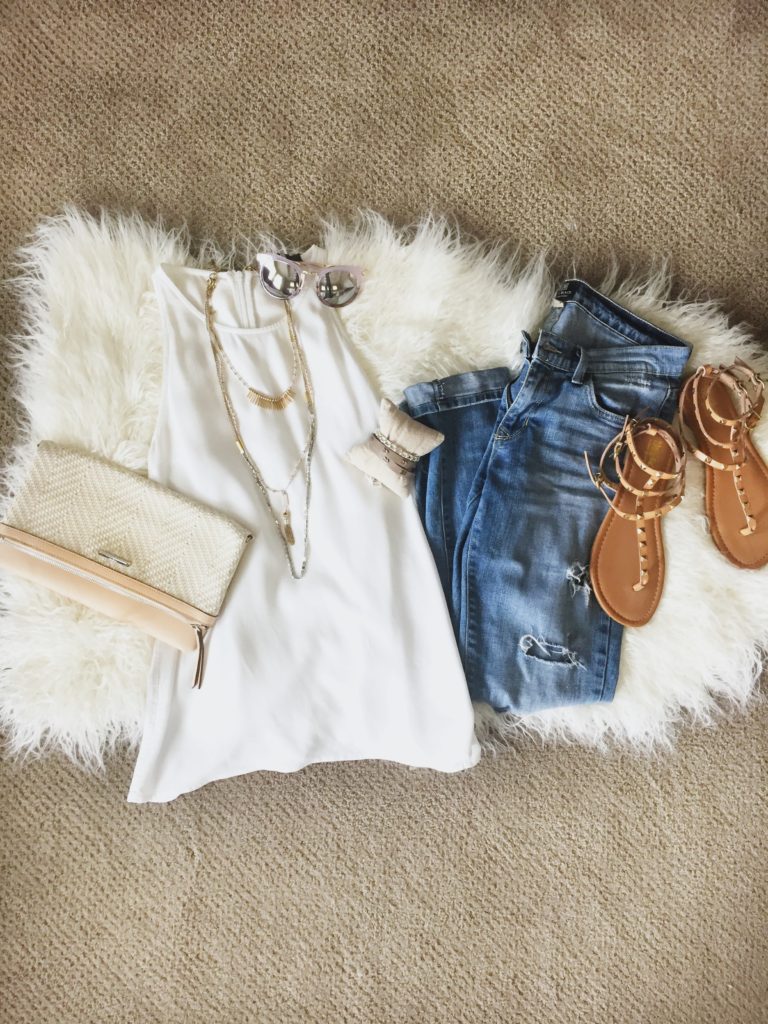 Ok, this isn't so wintery; but I love this outfit so much. Feels easy, breezy and casual cool.
I got this tank at Top Shop in Nordstrom about three years ago (this one is pretty cute too though!). I love the cut, the fabric, it's very loose and flowy; but actual has a bit of texture to it, and has a very interesting detail at the back with a slit up the middle. It's a creamy white so I love to accessorize in mixed metal. So many details!!  I have worn it with a big chunky statement necklace but when paired with these ripped up Just Black Boyfriend jeans (or something like these), gladiator sandals from Target and a Neutral Weave Clutch just looked more boho / everyday style, it's just screaming for a long layered necklace. Then you go and pair it with a SUPER COOL pair of mirrored lens, lavender shades. #boom DONE!
Wear this literally anywhere. On a class field trip. To lunch. To browse the shops. To meet about Book Club….for realz…right?? ANYwhere.
Look #5: Effortless Chic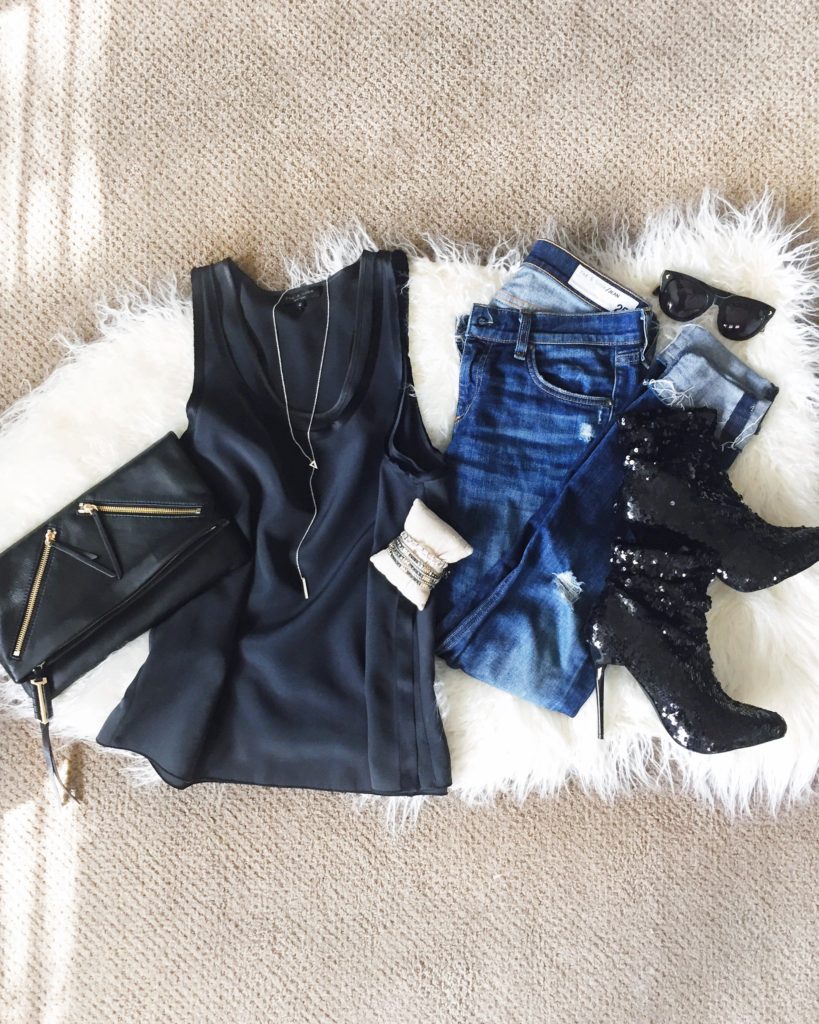 Time for a night out….THIS is awesome! I love it so much and this is one outfit that is made up of a few investment pieces and truly, I threw them all together, because sometimes when I cover myself in my favorite things, I feel pretty freaking awesome. Sounds a little hoity toity? Maybe. I own that.
Rag and Bone black silk layered look tank top, that has a trim detail that is a darker black than the actual top, including a small slit in the side and the cut is definately more designer feel to it. I don't know how else to explain it and do NOT want you to interpret that as me thinking all other tank tops are cut poorly. I just know in my own head how I look at fashion and I feel confident I can tell the difference between the layers in brands.
SPARKLY BOOOOOOTSS! Ok, I love these and they were bought online, sight unseen. Super cool, lots of wow factor; but DANG, those heels are HIGH! I can't wear them out dancing; but I would have no problem going to a wine or bourbon bar where I could SIT while looking good (if I do say so myself), then I'll pull these babies out.
So what do you say?? Time to dig through YOUR closet and see what combos you can come up with that you haven't paired together yet? Who says you need to go buy something new, to have a new outfit?!
xo Taryn